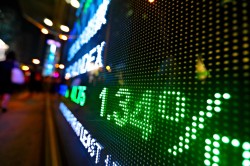 Acasti Pharma Inc (NASDAQ:ACST) saw a significant decrease in short interest in January. As of January 31st, there was short interest totalling 481,843 shares, a decrease of 31.0% from the January 15th total of 698,655 shares. Based on an average daily trading volume, of 195,664 shares, the short-interest ratio is currently 2.5 days.
A number of research firms recently issued reports on ACST. ValuEngine raised shares of Acasti Pharma from a "hold" rating to a "buy" rating in a research note on Wednesday, October 17th. Zacks Investment Research downgraded shares of Acasti Pharma from a "buy" rating to a "hold" rating in a research note on Monday, January 14th.
Hedge funds have recently added to or reduced their stakes in the stock. K.J. Harrison & Partners Inc bought a new position in Acasti Pharma in the fourth quarter worth about $28,000. Geode Capital Management LLC bought a new position in Acasti Pharma in the fourth quarter worth about $40,000. Finally, Bank of Montreal Can raised its stake in Acasti Pharma by 60.3% in the fourth quarter. Bank of Montreal Can now owns 247,612 shares of the biopharmaceutical company's stock worth $206,000 after buying an additional 93,185 shares in the last quarter. 0.50% of the stock is owned by institutional investors.
ACST stock
opened at $0.88 on Thursday. Acasti Pharma has a 1 year low of $0.43 and a 1 year high of $1.80. The stock has a market capitalization of $66.71 million, a P/E ratio of -1.16 and a beta of 1.23. The company has a quick ratio of 0.56, a current ratio of 0.56 and a debt-to-equity ratio of 0.22.
Acasti Pharma (NASDAQ:ACST) last released its quarterly earnings results on Wednesday, November 14th. The biopharmaceutical company reported ($0.20) earnings per share (EPS) for the quarter, topping the Zacks' consensus estimate of ($0.21) by $0.01. On average, equities analysts anticipate that Acasti Pharma will post -0.36 earnings per share for the current fiscal year.
TRADEMARK VIOLATION WARNING: "Short Interest in Acasti Pharma Inc (ACST) Declines By 31.0%" was first published by Chaffey Breeze and is the sole property of of Chaffey Breeze. If you are reading this news story on another publication, it was copied illegally and reposted in violation of United States & international copyright and trademark laws. The legal version of this news story can be viewed at https://www.chaffeybreeze.com/2019/02/14/short-interest-in-acasti-pharma-inc-acst-declines-by-31-0.html.
Acasti Pharma Company Profile
Acasti Pharma Inc, a biopharmaceutical company, focuses on the research, development, and commercialization of prescription drugs for the treatment of cardiovascular diseases. Its lead product candidate is CaPre, an omega-3 phospholipid therapeutic that is in Phase III clinical trial to treat patients with hypertriglyceridemia.
Read More: How Do Tariffs Affect Trade Balances?
Receive News & Ratings for Acasti Pharma Daily - Enter your email address below to receive a concise daily summary of the latest news and analysts' ratings for Acasti Pharma and related companies with MarketBeat.com's FREE daily email newsletter.