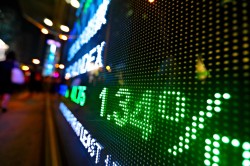 Equities analysts expect NanoVibronix Inc (NASDAQ:NAOV) to announce earnings of ($0.16) per share for the current quarter, Zacks reports. Two analysts have made estimates for NanoVibronix's earnings, with the highest EPS estimate coming in at ($0.13) and the lowest estimate coming in at ($0.19). NanoVibronix reported earnings per share of ($0.26) in the same quarter last year, which would suggest a positive year-over-year growth rate of 38.5%. The business is expected to issue its next quarterly earnings report on Thursday, April 4th.
Zacks Investment Research's EPS averages are an average based on a survey of sell-side research analysts that follow NanoVibronix.
NanoVibronix (NASDAQ:NAOV) last posted its earnings results on Wednesday, November 14th. The company reported ($0.21) earnings per share for the quarter. NanoVibronix had a negative net margin of 1,380.78% and a negative return on equity of 180.81%. The company had revenue of $0.05 million during the quarter.
Separately, Dawson James began coverage on shares of NanoVibronix in a report on Wednesday, January 9th. They issued a "buy" rating for the company.
NanoVibronix stock traded down $0.05 during trading on Tuesday, hitting $3.30. The company had a trading volume of 1,897 shares, compared to its average volume of 3,929. NanoVibronix has a 1-year low of $2.81 and a 1-year high of $5.00. The company has a market capitalization of $12.66 million, a PE ratio of -2.82 and a beta of -0.14.
An institutional investor recently bought a new position in NanoVibronix stock. Vanguard Group Inc purchased a new position in NanoVibronix Inc (NASDAQ:NAOV) in the 3rd quarter, according to the company in its most recent 13F filing with the Securities and Exchange Commission (SEC). The fund purchased 11,437 shares of the company's stock, valued at approximately $53,000. Vanguard Group Inc owned approximately 0.29% of NanoVibronix as of its most recent SEC filing. 14.20% of the stock is owned by institutional investors.
NanoVibronix Company Profile
NanoVibronix, Inc, through its subsidiary, NanoVibronix Ltd., focuses on the manufacture and sale of noninvasive biological response-activating devices that target biofilm prevention, wound healing, and pain therapy. Its products include UroShield, an ultrasound-based product to prevent bacterial colonization and biofilm in urinary catheters, enhance antibiotic efficacy, and decrease pain and discomfort associated with urinary catheter use; PainShield, a patch-based therapeutic ultrasound technology to treat pain, muscle spasm, and joint contractures; and WoundShield, a patch-based therapeutic ultrasound device, which facilitates tissue regeneration and wound healing.
Featured Article: Marijuana Stocks
Get a free copy of the Zacks research report on NanoVibronix (NAOV)
For more information about research offerings from Zacks Investment Research, visit Zacks.com
Receive News & Ratings for NanoVibronix Daily - Enter your email address below to receive a concise daily summary of the latest news and analysts' ratings for NanoVibronix and related companies with MarketBeat.com's FREE daily email newsletter.