Viavi Solutions (NASDAQ:VIAV) released its quarterly earnings data on Tuesday. The communications equipment provider reported $0.22 earnings per share (EPS) for the quarter, beating the Zacks' consensus estimate of $0.16 by $0.06, Bloomberg Earnings reports. Viavi Solutions had a negative net margin of 5.92% and a positive return on equity of 12.72%. The firm had revenue of $298.40 million for the quarter, compared to the consensus estimate of $280.93 million. During the same period last year, the firm earned $0.09 earnings per share. The company's quarterly revenue was up 47.9% on a year-over-year basis. Viavi Solutions updated its Q3 2019 guidance to $0.11-0.13 EPS and its Q3 guidance to $0.11-0.13 EPS.
VIAV stock traded down $0.12 during midday trading on Tuesday, hitting $10.92. 3,747,654 shares of the stock traded hands, compared to its average volume of 1,866,673. The firm has a market cap of $2.52 billion, a PE ratio of 32.12 and a beta of 0.84. The company has a debt-to-equity ratio of 0.79, a quick ratio of 2.18 and a current ratio of 2.39. Viavi Solutions has a 1-year low of $9.11 and a 1-year high of $12.82.
VIAV has been the subject of several recent analyst reports. Zacks Investment Research upgraded shares of Viavi Solutions from a "hold" rating to a "strong-buy" rating and set a $14.00 target price for the company in a research note on Wednesday, October 17th. Stifel Nicolaus began coverage on shares of Viavi Solutions in a report on Monday, October 22nd. They issued a "buy" rating and a $14.00 price target for the company. JPMorgan Chase & Co. raised their price target on shares of Viavi Solutions from $11.00 to $12.00 and gave the stock a "sell" rating in a report on Friday, November 2nd. ValuEngine cut shares of Viavi Solutions from a "buy" rating to a "hold" rating in a report on Friday, November 2nd. Finally, BidaskClub cut shares of Viavi Solutions from a "strong-buy" rating to a "buy" rating in a report on Wednesday, November 7th. One research analyst has rated the stock with a sell rating, eight have given a buy rating and two have issued a strong buy rating to the stock. Viavi Solutions has an average rating of "Buy" and an average target price of $12.05.
In other news, Director Keith Barnes sold 11,074 shares of Viavi Solutions stock in a transaction dated Monday, November 19th. The shares were sold at an average price of $9.73, for a total value of $107,750.02. Following the sale, the director now owns 98,471 shares in the company, valued at $958,122.83. The sale was disclosed in a document filed with the SEC, which can be accessed through
the SEC website
. In the last 90 days, insiders have sold 13,149 shares of company stock worth $127,959. 0.50% of the stock is owned by company insiders.
COPYRIGHT VIOLATION WARNING: "Viavi Solutions (VIAV) Releases Earnings Results, Beats Estimates By $0.06 EPS" was first reported by Chaffey Breeze and is the property of of Chaffey Breeze. If you are accessing this news story on another domain, it was illegally stolen and reposted in violation of US & international copyright and trademark laws. The original version of this news story can be accessed at https://www.chaffeybreeze.com/2019/02/05/viavi-solutions-viav-releases-earnings-results-beats-estimates-by-0-06-eps.html.
Viavi Solutions Company Profile
Viavi Solutions Inc provides network test, monitoring, and assurance solutions to communications service providers, enterprises, network equipment manufacturers, civil government, military, and avionics customers worldwide. The company operates through Network Enablement, Service Enablement, and Optical Security and Performance Products segments.
Recommended Story: Price-Sales Ratio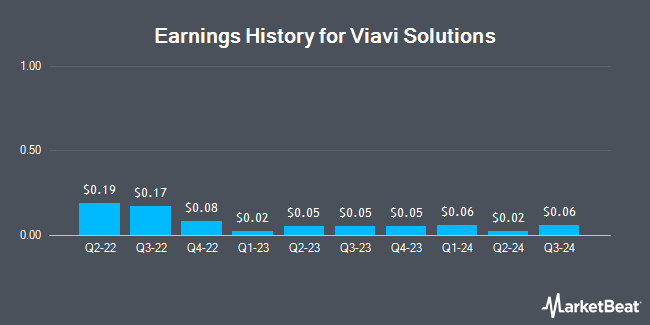 Receive News & Ratings for Viavi Solutions Daily - Enter your email address below to receive a concise daily summary of the latest news and analysts' ratings for Viavi Solutions and related companies with MarketBeat.com's FREE daily email newsletter.