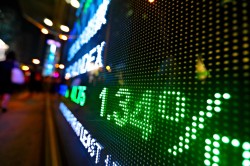 Tengasco, Inc. (NYSEAMERICAN:TGC) was the target of a significant growth in short interest during the month of December. As of December 31st, there was short interest totalling 83,818 shares, a growth of 276.5% from the December 14th total of 22,261 shares. Approximately 0.8% of the company's stock are short sold. Based on an average daily volume of 34,535 shares, the days-to-cover ratio is currently 2.4 days.
Separately, TheStreet upgraded shares of Tengasco from a "d+" rating to a "c" rating in a report on Thursday, November 15th.
Shares of TGC opened at $0.95 on Friday. Tengasco has a 12 month low of $0.59 and a 12 month high of $2.47.
Tengasco (NYSEAMERICAN:TGC) last announced its earnings results on Wednesday, November 14th. The company reported $0.03 EPS for the quarter. The business had revenue of $1.65 million for the quarter.
COPYRIGHT VIOLATION NOTICE: "Tengasco, Inc. (TGC) Short Interest Up 276.5% in December" was first reported by Chaffey Breeze and is owned by of Chaffey Breeze. If you are accessing this story on another domain, it was illegally stolen and reposted in violation of US and international trademark and copyright laws. The legal version of this story can be read at https://www.chaffeybreeze.com/2019/01/11/tengasco-inc-tgc-short-interest-up-276-5-in-december.html.
About Tengasco
Tengasco, Inc, together with its subsidiaries, explores for and produces oil and natural gas in the United States. It primarily holds interests in the oil and gas properties located in Kansas. As of December 31, 2017, the company had 175 producing oil wells, 20 shut-in wells, and 38 active disposal wells.
See Also: What Does Beta Mean In Stock Selection
Receive News & Ratings for Tengasco Daily - Enter your email address below to receive a concise daily summary of the latest news and analysts' ratings for Tengasco and related companies with MarketBeat.com's FREE daily email newsletter.