GATX Co. (NYSE:GATX) declared a quarterly dividend on Monday, October 29th, Wall Street Journal reports. Stockholders of record on Friday, December 14th will be paid a dividend of 0.44 per share by the transportation company on Monday, December 31st. This represents a $1.76 annualized dividend and a dividend yield of 2.28%. The ex-dividend date is Thursday, December 13th.
GATX has a payout ratio of 34.8% indicating that its dividend is sufficiently covered by earnings. Analysts expect GATX to earn $5.07 per share next year, which means the company should continue to be able to cover its $1.76 annual dividend with an expected future payout ratio of 34.7%.
Shares of GATX stock opened at $77.27 on Friday. GATX has a 52 week low of $58.98 and a 52 week high of $91.12. The firm has a market capitalization of $2.97 billion, a PE ratio of 15.63, a price-to-earnings-growth ratio of 1.03 and a beta of 1.48. The company has a current ratio of 3.05, a quick ratio of 3.05 and a debt-to-equity ratio of 2.40.
GATX (NYSE:GATX) last announced its quarterly earnings results on Tuesday, October 23rd. The transportation company reported $1.22 EPS for the quarter, beating the Thomson Reuters' consensus estimate of $1.07 by $0.15. GATX had a return on equity of 10.65% and a net margin of 37.15%. The business had revenue of $349.70 million for the quarter, compared to analyst estimates of $357.00 million. During the same quarter in the prior year, the company posted $1.25 EPS. The company's quarterly revenue was down 2.8% on a year-over-year basis. Equities analysts forecast that GATX will post 5.1 earnings per share for the current fiscal year.
In related news, EVP Deborah A. Golden sold 2,869 shares of the business's stock in a transaction on Thursday, September 13th. The stock was sold at an average price of $81.73, for a total value of $234,483.37. Following the sale, the executive vice president now owns 43,610 shares in the company, valued at approximately $3,564,245.30. The transaction was disclosed in a document filed with the Securities & Exchange Commission, which is available through this link. 3.63% of the stock is currently owned by insiders.
Several research firms recently issued reports on GATX. Zacks Investment Research upgraded GATX from a "hold" rating to a "buy" rating and set a $94.00 price objective on the stock in a report on Tuesday, September 18th. Mizuho set a $90.00 price objective on GATX and gave the company a "buy" rating in a report on Thursday, October 25th. Five analysts have rated the stock with a hold rating and three have assigned a buy rating to the company. The company presently has a consensus rating of "Hold" and a consensus price target of $79.50.
TRADEMARK VIOLATION WARNING: "GATX Co. Plans Quarterly Dividend of $0.44 (GATX)" was published by Chaffey Breeze and is the sole property of of Chaffey Breeze. If you are viewing this report on another domain, it was copied illegally and reposted in violation of US & international copyright & trademark legislation. The legal version of this report can be accessed at https://www.chaffeybreeze.com/2018/12/08/gatx-co-plans-quarterly-dividend-of-0-44-gatx.html.
GATX Company Profile
GATX Corporation leases, operates, manages, and remarkets assets in the rail and marine markets in North America and internationally. The company operates through four segments: Rail North America, Rail International, American Steamship Company (ASC), and Portfolio Management. The Rail North America segment primarily leases railcars and locomotives.
Recommended Story: Why do corrections happen?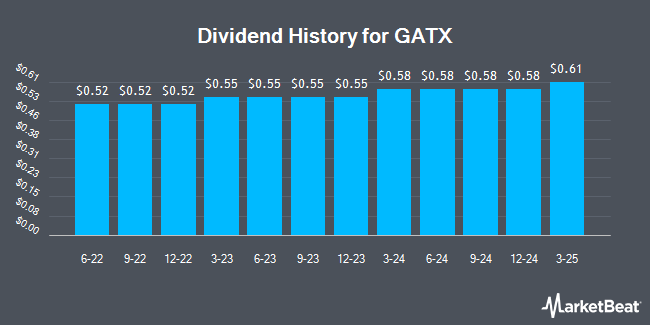 Receive News & Ratings for GATX Daily - Enter your email address below to receive a concise daily summary of the latest news and analysts' ratings for GATX and related companies with MarketBeat.com's FREE daily email newsletter.