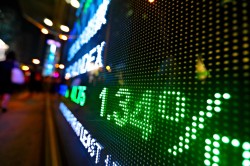 TapImmune (NASDAQ:MRKR) announced its quarterly earnings data on Tuesday. The company reported ($0.32) earnings per share (EPS) for the quarter, beating the Zacks' consensus estimate of ($0.44) by $0.12, Bloomberg Earnings reports.
NASDAQ MRKR traded down $0.19 during trading hours on Wednesday, reaching $6.63. The company had a trading volume of 28,146 shares, compared to its average volume of 244,626. TapImmune has a 1-year low of $2.58 and a 1-year high of $13.55. The stock has a market capitalization of $314.58 million, a P/E ratio of -5.72 and a beta of -0.32.
Separately, Piper Jaffray Companies assumed coverage on shares of TapImmune in a research report on Monday, October 22nd. They issued a "neutral" rating on the stock.
WARNING: This news story was published by Chaffey Breeze and is the sole property of of Chaffey Breeze. If you are accessing this news story on another site, it was stolen and reposted in violation of U.S. & international copyright laws. The correct version of this news story can be read at https://www.chaffeybreeze.com/2018/11/14/tapimmune-mrkr-releases-earnings-results-beats-expectations-by-0-12-eps.html.
TapImmune Company Profile
Marker Therapeutics, Inc, a clinical-stage immuno-oncology company, develops T cell-based immunotherapies for the treatment of hematological malignancies and solid tumor indications. Its cell therapy technology is based on the tumor-specific T cells that recognize tumor associated antigens and kill tumor cells expressing those targets.
See Also: Dollar Cost Averaging
Receive News & Ratings for TapImmune Daily - Enter your email address below to receive a concise daily summary of the latest news and analysts' ratings for TapImmune and related companies with MarketBeat.com's FREE daily email newsletter.