Equities research analysts expect Nucor Co. (NYSE:NUE) to report $6.27 billion in sales for the current quarter, according to Zacks Investment Research. Five analysts have made estimates for Nucor's earnings. The highest sales estimate is $6.62 billion and the lowest is $5.91 billion. Nucor posted sales of $5.09 billion in the same quarter last year, which suggests a positive year-over-year growth rate of 23.2%. The company is expected to report its next quarterly earnings results on Tuesday, January 29th.
On average, analysts expect that Nucor will report full-year sales of $25.07 billion for the current year, with estimates ranging from $24.68 billion to $25.39 billion. For the next financial year, analysts anticipate that the company will post sales of $24.53 billion, with estimates ranging from $21.25 billion to $25.99 billion. Zacks Investment Research's sales calculations are a mean average based on a survey of sell-side analysts that cover Nucor.
Nucor (NYSE:NUE) last issued its earnings results on Thursday, October 18th. The basic materials company reported $2.33 EPS for the quarter, missing analysts' consensus estimates of $2.35 by ($0.02). The firm had revenue of $6.74 billion for the quarter, compared to analyst estimates of $6.64 billion. Nucor had a return on equity of 20.72% and a net margin of 8.79%. The business's revenue for the quarter was up 30.4% on a year-over-year basis. During the same quarter in the previous year, the firm posted $0.83 EPS.
A number of equities analysts recently commented on the stock. KeyCorp upgraded shares of Nucor from a "sector weight" rating to an "overweight" rating and set a $77.00 target price for the company in a research note on Tuesday, July 24th.
Zacks Investment Research
downgraded shares of Nucor from a "strong-buy" rating to a "hold" rating in a research note on Thursday, October 4th. Deutsche Bank downgraded shares of Nucor to a "buy" rating in a research note on Tuesday, October 2nd. Jefferies Financial Group reiterated a "buy" rating and set a $80.00 target price on shares of Nucor in a research note on Friday, July 13th. Finally,
ValuEngine
upgraded shares of Nucor from a "sell" rating to a "hold" rating in a research note on Thursday, September 13th. One equities research analyst has rated the stock with a sell rating, five have issued a hold rating and ten have assigned a buy rating to the company's stock. The company presently has a consensus rating of "Buy" and an average price target of $73.58.
Shares of NUE stock traded up $0.51 on Thursday, reaching $60.52. 2,868,195 shares of the stock were exchanged, compared to its average volume of 3,253,732. The company has a current ratio of 3.15, a quick ratio of 1.69 and a debt-to-equity ratio of 0.42. The company has a market cap of $19.15 billion, a P/E ratio of 17.24, a PEG ratio of 0.66 and a beta of 1.45. Nucor has a twelve month low of $53.71 and a twelve month high of $70.48.
Nucor declared that its board has initiated a stock repurchase plan on Thursday, September 6th that authorizes the company to repurchase $2.00 billion in shares. This repurchase authorization authorizes the basic materials company to reacquire up to 10% of its stock through open market purchases. Stock repurchase plans are usually a sign that the company's board of directors believes its stock is undervalued.
The business also recently disclosed a quarterly dividend, which will be paid on Friday, November 9th. Shareholders of record on Friday, September 28th will be paid a $0.38 dividend. The ex-dividend date of this dividend is Thursday, September 27th. This represents a $1.52 annualized dividend and a yield of 2.51%. Nucor's dividend payout ratio is presently 43.30%.
A number of hedge funds and other institutional investors have recently added to or reduced their stakes in NUE. Almanack Investment Partners LLC. purchased a new stake in shares of Nucor in the second quarter valued at about $106,000. Parallel Advisors LLC raised its holdings in shares of Nucor by 120.0% in the second quarter. Parallel Advisors LLC now owns 2,231 shares of the basic materials company's stock valued at $139,000 after buying an additional 1,217 shares during the last quarter. Transamerica Financial Advisors Inc. purchased a new stake in shares of Nucor in the second quarter valued at about $153,000. Bay Colony Advisory Group Inc d b a Bay Colony Advisors purchased a new stake in shares of Nucor in the second quarter valued at about $179,000. Finally, Cerebellum GP LLC purchased a new position in Nucor during the third quarter worth about $181,000. Institutional investors own 77.42% of the company's stock.
About Nucor
Nucor Corporation manufactures and sells steel and steel products in the United States and internationally. It operates in three segments: Steel Mills, Steel Products, and Raw Materials. The Steel Mills segment produces hot-rolled, cold-rolled, and galvanized sheet steel products; hollow structural section steel tubing, steel electrical conduit, plate steel, and structural steel products; bar steel products, such as blooms, billets, concrete reinforcing and merchant bars, wire rods, and special bar quality; and tubular and plate steel products.
Read More: Yield Curve
Get a free copy of the Zacks research report on Nucor (NUE)
For more information about research offerings from Zacks Investment Research, visit Zacks.com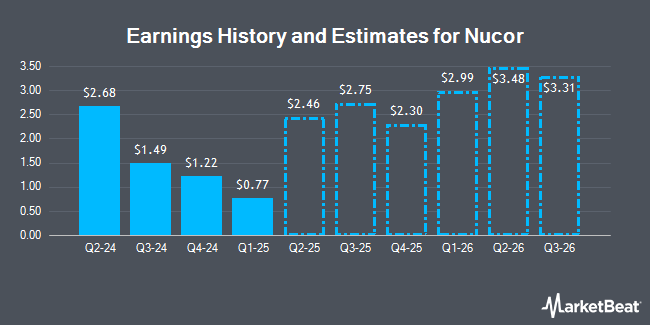 Receive News & Ratings for Nucor Daily - Enter your email address below to receive a concise daily summary of the latest news and analysts' ratings for Nucor and related companies with MarketBeat.com's FREE daily email newsletter.