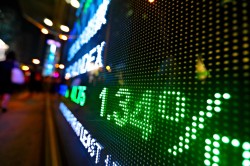 Patriot One Technologies Inc (CVE:PAT) Director Dinesh Kandanchatha sold 98,300 shares of the firm's stock in a transaction dated Thursday, November 1st. The stock was sold at an average price of C$2.64, for a total transaction of C$259,512.00.
CVE:PAT traded up C$0.10 during mid-day trading on Friday, reaching C$2.54. 768,400 shares of the company's stock were exchanged, compared to its average volume of 897,223. Patriot One Technologies Inc has a one year low of C$1.03 and a one year high of C$3.01.
About Patriot One Technologies
Patriot One Technologies Inc, a technology company, engages in the commercialization of a system to detect concealed weapons utilizing radar technologies. The company offers PATSCAN CMR, a cognitive microwave radar concealed weapons detection system to combat active shooter threats before they occur.
See Also: Investing strategies using the yield curve
Receive News & Ratings for Patriot One Technologies Daily - Enter your email address below to receive a concise daily summary of the latest news and analysts' ratings for Patriot One Technologies and related companies with MarketBeat.com's FREE daily email newsletter.