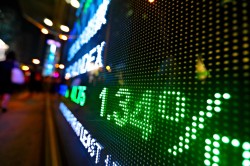 Emblem Corp (CVE:EMC) Director John Harland Stewart sold 200,000 shares of the business's stock in a transaction dated Tuesday, October 30th. The stock was sold at an average price of $1.14, for a total transaction of $228,000.00.
EMC opened at $1.23 on Friday. Emblem Corp has a twelve month low of $1.08 and a twelve month high of $2.76.
Emblem (CVE:EMC) last posted its quarterly earnings results on Wednesday, August 22nd. The company reported ($0.04) earnings per share for the quarter, missing analysts' consensus estimates of ($0.03) by ($0.01). The company had revenue of $1.51 million for the quarter, compared to analysts' expectations of $1.05 million.
About Emblem
Emblem Corp. produces, distributes, and sells medical cannabis and cannabis derivatives in Canada. The company also operates medical cannabis education centers to provide education services for making informed decisions about medical cannabis treatment options to physicians and patients. In addition, it provides various accessories.
Recommended Story: Index Funds
Receive News & Ratings for Emblem Daily - Enter your email address below to receive a concise daily summary of the latest news and analysts' ratings for Emblem and related companies with MarketBeat.com's FREE daily email newsletter.