PPL (NYSE:PPL) updated its FY18 earnings guidance on Thursday. The company provided earnings per share (EPS) guidance of $2.30-2.40 for the period, compared to the Thomson Reuters consensus estimate of $2.34.
Several research firms recently issued reports on PPL. TheStreet raised shares of PPL from a c+ rating to a b- rating in a research report on Tuesday, August 28th. Zacks Investment Research cut shares of PPL from a buy rating to a hold rating in a research report on Tuesday, October 9th. Morgan Stanley lifted their price target on shares of PPL from $29.00 to $30.00 and gave the company a hold rating in a research report on Tuesday, September 11th. Citigroup assumed coverage on shares of PPL in a research report on Thursday, August 23rd. They set a neutral rating and a $30.00 price target on the stock. Finally, ValuEngine raised shares of PPL from a strong sell rating to a sell rating in a research report on Saturday, October 6th. Two analysts have rated the stock with a sell rating, six have given a hold rating and five have issued a buy rating to the company. The company has a consensus rating of Hold and an average target price of $34.18.
Shares of PPL stock opened at $30.83 on Friday. The company has a market cap of $21.27 billion, a price-to-earnings ratio of 12.67, a price-to-earnings-growth ratio of 2.60 and a beta of 0.40. The company has a debt-to-equity ratio of 1.80, a quick ratio of 0.52 and a current ratio of 0.58. PPL has a fifty-two week low of $25.30 and a fifty-two week high of $37.35.
PPL (NYSE:PPL) last announced its quarterly earnings results on Thursday, November 1st. The utilities provider reported $0.59 earnings per share for the quarter, beating analysts' consensus estimates of $0.56 by $0.03. The firm had revenue of $1.87 billion for the quarter, compared to analysts' expectations of $1.98 billion. PPL had a net margin of 18.08% and a return on equity of 15.30%. PPL's revenue was up 1.5% compared to the same quarter last year. During the same period in the previous year, the company posted $0.56 earnings per share. As a group, equities research analysts anticipate that PPL will post 2.35 earnings per share for the current fiscal year.
PPL Company Profile
PPL Corporation, a utility holding company, delivers electricity and natural gas in the United States and the United Kingdom. The company operates in three segments: U.K. Regulated, Kentucky Regulated, and Pennsylvania Regulated. It serves 411,000 electric and 326,000 natural gas customers in Louisville and adjacent areas in Kentucky; 525,000 customers in central, southeastern, and western Kentucky; and approximately 28,000 customers in 5 counties in southwestern Virginia, and 3 customers in Tennessee.
Further Reading: Bull Market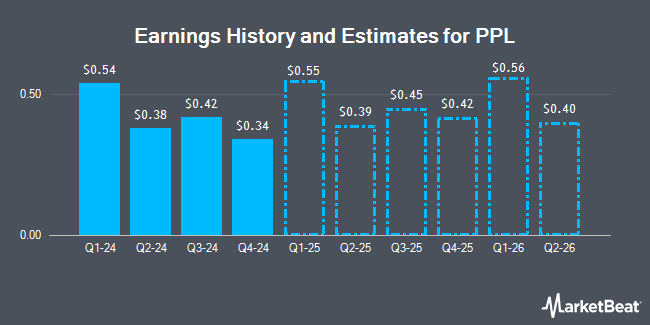 Receive News & Ratings for PPL Daily - Enter your email address below to receive a concise daily summary of the latest news and analysts' ratings for PPL and related companies with MarketBeat.com's FREE daily email newsletter.