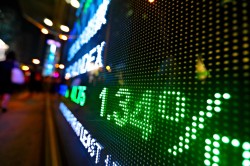 Zacks Investment Research lowered shares of LiveRamp (NASDAQ:RAMP) from a hold rating to a strong sell rating in a research report released on Friday.
According to Zacks, "LiveRamp Holdings, Inc. operates as a marketing technology company. It provides data foundation, digital transformation, consumer engagement, and online marketing and analysis services. LiveRamp Holdings Inc., formerly known as Acxiom Holdings, is based in AR, United States. "
Separately, TheStreet lowered shares of LiveRamp from a b- rating to a c+ rating in a research note on Wednesday, October 17th.
NASDAQ RAMP
traded up $0.36 during mid-day trading on Friday, reaching $47.66. The stock had a trading volume of 903,993 shares, compared to its average volume of 876,405. LiveRamp has a 1 year low of $18.60 and a 1 year high of $51.51.
LiveRamp (NASDAQ:RAMP) last announced its quarterly earnings data on Monday, October 29th. The company reported ($0.14) earnings per share for the quarter, missing analysts' consensus estimates of $0.03 by ($0.17). The company had revenue of $65.00 million for the quarter, compared to the consensus estimate of $227.11 million. During the same period in the prior year, the firm posted $0.22 EPS. The firm's revenue was up 20.4% compared to the same quarter last year.
In other LiveRamp news, CFO Warren Jenson sold 407,407 shares of the business's stock in a transaction on Thursday, November 1st. The shares were sold at an average price of $45.77, for a total transaction of $18,647,018.39. The sale was disclosed in a document filed with the Securities & Exchange Commission, which can be accessed through this link. Also, Director Jerry Gramaglia sold 27,252 shares of the business's stock in a transaction on Wednesday, October 31st. The shares were sold at an average price of $45.20, for a total transaction of $1,231,790.40. The disclosure for this sale can be found here.
A hedge fund recently bought a new stake in LiveRamp stock. Oregon Public Employees Retirement Fund bought a new stake in shares of LiveRamp Holdings (NASDAQ:RAMP) in the third quarter, according to its most recent filing with the Securities and Exchange Commission. The fund bought 30,395 shares of the company's stock, valued at approximately $1,502,000.
About LiveRamp
LiveRamp Holdings, Inc provides identity and data connectivity for powering exceptional customer experiences. The company offers IdentityLink, an identity resolution platform that connects people, data, and devices across the physical and digital world, powering privacy-compliant, people-based marketing that allows consumers to better connect with the brands and products they love.
Recommended Story: What is a Fiduciary?
Get a free copy of the Zacks research report on LiveRamp (RAMP)
For more information about research offerings from Zacks Investment Research, visit Zacks.com
Receive News & Ratings for LiveRamp Daily - Enter your email address below to receive a concise daily summary of the latest news and analysts' ratings for LiveRamp and related companies with MarketBeat.com's FREE daily email newsletter.