ManpowerGroup (NYSE:MAN) issued an update on its fourth quarter earnings guidance on Friday morning. The company provided earnings per share (EPS) guidance of $2.42-2.50 for the period, compared to the Thomson Reuters consensus estimate of $2.49. ManpowerGroup also updated its Q4 2018 guidance to $2.42-2.50 EPS.
Shares of MAN stock traded down $4.12 during trading hours on Friday, reaching $74.23. The company had a trading volume of 19,461 shares, compared to its average volume of 930,266. ManpowerGroup has a one year low of $74.64 and a one year high of $136.93. The firm has a market capitalization of $5.16 billion, a PE ratio of 10.33 and a beta of 1.19. The company has a quick ratio of 1.48, a current ratio of 1.48 and a debt-to-equity ratio of 0.37.
ManpowerGroup (NYSE:MAN) last announced its quarterly earnings results on Friday, October 19th. The business services provider reported $2.43 EPS for the quarter, topping analysts' consensus estimates of $2.41 by $0.02. ManpowerGroup had a net margin of 2.67% and a return on equity of 19.37%. The firm had revenue of $5.42 billion during the quarter, compared to analyst estimates of $5.64 billion. During the same period in the previous year, the business posted $2.04 earnings per share. The business's revenue for the quarter was down .8% on a year-over-year basis. Analysts anticipate that ManpowerGroup will post 8.93 earnings per share for the current year.
ManpowerGroup announced that its Board of Directors has approved a share repurchase program on Friday, August 3rd that authorizes the company to repurchase 6,000,000 shares. This repurchase authorization authorizes the business services provider to repurchase shares of its stock through open market purchases. Stock repurchase programs are usually a sign that the company's leadership believes its stock is undervalued.
A number of research firms recently issued reports on MAN. Zacks Investment Research raised shares of ManpowerGroup from a sell rating to a hold rating in a report on Wednesday, September 19th. Nomura reissued a buy rating and issued a $130.00 price objective on shares of ManpowerGroup in a report on Sunday, July 22nd. Barclays dropped their price objective on shares of ManpowerGroup from $115.00 to $90.00 and set a $86.63 rating on the stock in a report on Wednesday, July 18th. Credit Suisse Group began coverage on shares of ManpowerGroup in a report on Friday, August 10th. They issued an outperform rating and a $115.00 price objective on the stock. Finally, Northcoast Research reissued a neutral rating on shares of ManpowerGroup in a report on Monday, July 23rd. Three analysts have rated the stock with a sell rating, five have assigned a hold rating and five have given a buy rating to the company. ManpowerGroup has an average rating of Hold and a consensus price target of $111.18.
In other ManpowerGroup news, Director Ulice Payne, Jr. sold 1,350 shares of ManpowerGroup stock in a transaction that occurred on Friday, August 10th. The shares were sold at an average price of $89.43, for a total transaction of $120,730.50. The sale was disclosed in a filing with the SEC, which is accessible through this link. Also, EVP Mara E. Swan sold 11,192 shares of ManpowerGroup stock in a transaction that occurred on Friday, August 31st. The shares were sold at an average price of $93.77, for a total transaction of $1,049,473.84. Following the transaction, the executive vice president now directly owns 13,493 shares in the company, valued at approximately $1,265,238.61. The disclosure for this sale can be found here. 1.02% of the stock is owned by insiders.
About ManpowerGroup
ManpowerGroup Inc provides workforce solutions and services in the Americas, Southern Europe, Northern Europe, and the Asia Pacific Middle East region. The company's recruitment service portfolio includes permanent, temporary, and contract recruitment of professionals, as well as administrative and industrial positions.
Recommended Story: Asset Allocation and Your Retirement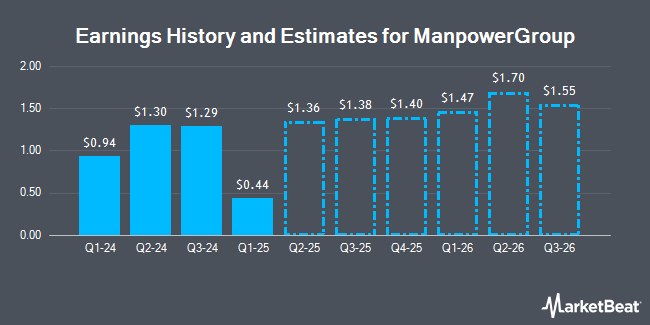 Receive News & Ratings for ManpowerGroup Daily - Enter your email address below to receive a concise daily summary of the latest news and analysts' ratings for ManpowerGroup and related companies with MarketBeat.com's FREE daily email newsletter.