WH Smith Plc (LON:SMWH) has been given a consensus rating of "Buy" by the six research firms that are covering the firm, Marketbeat Ratings reports. Three equities research analysts have rated the stock with a hold rating and three have given a buy rating to the company. The average 1-year target price among analysts that have covered the stock in the last year is GBX 2,150 ($28.09).
A number of research firms have commented on SMWH. Peel Hunt reaffirmed a "hold" rating on shares of WH Smith in a research report on Thursday, August 30th. Royal Bank of Canada upgraded shares of WH Smith to a "top pick" rating in a research note on Monday, July 9th. Barclays reiterated an "overweight" rating on shares of WH Smith in a research note on Friday, October 12th. Finally, JPMorgan Chase & Co. reiterated an "overweight" rating and set a GBX 2,300 ($30.05) price target on shares of WH Smith in a research note on Friday, October 12th.
LON:SMWH traded down GBX 6 ($0.08) during trading hours on Friday, reaching GBX 1,774 ($23.18). The company had a trading volume of 207,991 shares, compared to its average volume of 316,134. WH Smith has a 52 week low of GBX 1,635 ($21.36) and a 52 week high of GBX 2,347 ($30.67).
The firm also recently declared a dividend, which will be paid on Thursday, January 31st. Stockholders of record on Thursday, January 10th will be paid a dividend of GBX 38.10 ($0.50) per share. This represents a dividend yield of 2.12%. The ex-dividend date is Thursday, January 10th. This is a boost from WH Smith's previous dividend of $16.00.
About WH Smith
WH Smith PLC operates as a retailer in the United Kingdom and internationally. It operates through two segments, High Street and Travel. The High Street segment sells stationery products, including greetings cards, general stationery, art and craft, and gifting products; news and impulse products, such as newspapers, magazines, confectionery, and drinks; and books.
Featured Story: What is Compound Annual Growth Rate (CAGR)?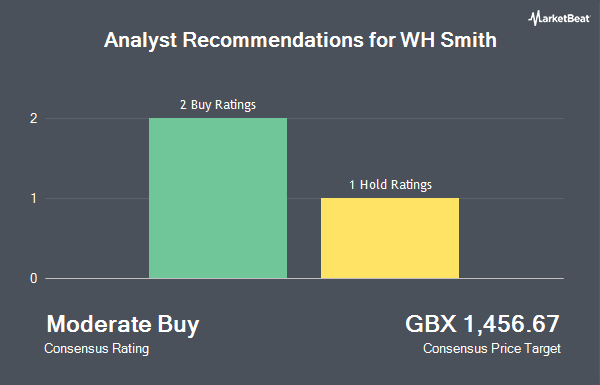 Receive News & Ratings for WH Smith Daily - Enter your email address below to receive a concise daily summary of the latest news and analysts' ratings for WH Smith and related companies with MarketBeat.com's FREE daily email newsletter.