Petmed Express (NASDAQ:PETS) is scheduled to announce its earnings results before the market opens on Monday, October 22nd. Analysts expect the company to announce earnings of $0.52 per share for the quarter.
Petmed Express (NASDAQ:PETS) last announced its quarterly earnings data on Monday, July 23rd. The company reported $0.62 EPS for the quarter, missing the consensus estimate of $0.63 by ($0.01). The company had revenue of $87.39 million during the quarter, compared to the consensus estimate of $85.72 million. Petmed Express had a return on equity of 35.77% and a net margin of 14.42%. The business's revenue was up 9.7% on a year-over-year basis. During the same period in the prior year, the firm posted $0.45 EPS. On average, analysts expect Petmed Express to post $2 EPS for the current fiscal year and $3 EPS for the next fiscal year.
PETS stock traded down $0.13 during mid-day trading on Thursday, hitting $28.67. The company had a trading volume of 2,077 shares, compared to its average volume of 636,361. The firm has a market cap of $682.83 million, a price-to-earnings ratio of 15.73 and a beta of 0.55. Petmed Express has a 12 month low of $27.63 and a 12 month high of $57.80.
Several analysts have commented on PETS shares. BidaskClub lowered shares of Petmed Express from a "strong-buy" rating to a "buy" rating in a research report on Wednesday, July 25th.
Zacks Investment Research
lowered shares of Petmed Express from a "buy" rating to a "hold" rating in a research report on Tuesday, July 10th.
ValuEngine
upgraded shares of Petmed Express from a "strong sell" rating to a "sell" rating in a research note on Monday, July 16th. Finally, Craig Hallum reiterated a "sell" rating and issued a $32.00 target price (down previously from $38.00) on shares of Petmed Express in a research note on Monday, July 9th. Three research analysts have rated the stock with a sell rating, three have assigned a hold rating and one has assigned a buy rating to the company. The stock has a consensus rating of "Hold" and an average price target of $42.67.
In other news, Director Robert C. Schweitzer sold 7,500 shares of Petmed Express stock in a transaction dated Thursday, September 13th. The shares were sold at an average price of $37.00, for a total value of $277,500.00. Following the completion of the transaction, the director now owns 88,334 shares in the company, valued at $3,268,358. The transaction was disclosed in a filing with the Securities & Exchange Commission, which is available through the SEC website. 3.70% of the stock is owned by company insiders.
About Petmed Express
PetMed Express, Inc and its subsidiaries, doing business as 1-800-PetMeds, operates as a pet pharmacy in the United States. It markets prescription and non-prescription pet medications, and other health products for dogs and cats directly to the consumers. The company offers non-prescription medications and supplies, including flea and tick control products, bone and joint care products, vitamins, treats, nutritional supplements, hygiene products, and supplies; and prescription medications, such as heartworm preventative, flea and tick preventative, arthritis, thyroid, diabetes, pain, heart/blood pressure, and other specialty medications, as well as generic substitutes.
See Also: What are the Benefits of Index Funds?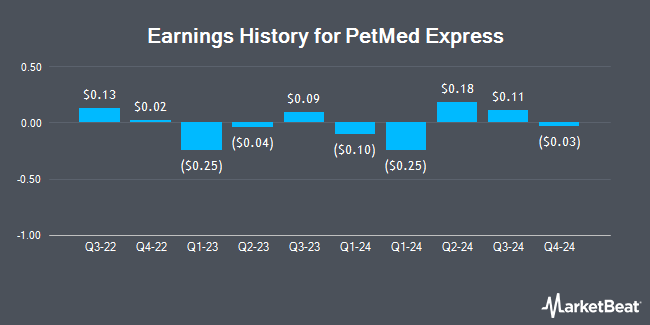 Receive News & Ratings for Petmed Express Daily - Enter your email address below to receive a concise daily summary of the latest news and analysts' ratings for Petmed Express and related companies with MarketBeat.com's FREE daily email newsletter.