NFI Group (TSE:NFI) had its price objective decreased by equities researchers at National Bank Financial from C$62.00 to C$59.00 in a note issued to investors on Tuesday. The firm currently has an "outperform" rating on the stock. National Bank Financial's price objective suggests a potential upside of 31.32% from the company's current price.
Separately, BMO Capital Markets lifted their price target on NFI Group from C$55.00 to C$56.00 in a research report on Thursday, August 9th. One investment analyst has rated the stock with a hold rating and four have given a buy rating to the stock. The stock currently has an average rating of "Buy" and an average target price of C$60.60.
Shares of TSE NFI opened at C$44.93 on Tuesday. NFI Group has a 12 month low of C$44.25 and a 12 month high of C$61.25.
NFI Group (TSE:NFI) last issued its quarterly earnings results on Tuesday, August 7th. The company reported C$1.03 EPS for the quarter, topping the Thomson Reuters' consensus estimate of C$0.98 by C$0.05. The business had revenue of C$868.62 million during the quarter, compared to the consensus estimate of C$866.11 million.
About NFI Group
NFI Group Inc, together with its subsidiaries, manufactures heavy-duty transit buses, medium-duty buses, low-floor cutaway buses, and motor coaches in the United States and Canada. It operates through two segments, Transit Bus and Motor Coach Manufacturing Operations; and Aftermarket Operations. The Transit Bus and Motor Coach Manufacturing Operations segment designs, manufactures, and sells heavy-duty transit buses, motor coaches, medium-duty buses and cutaways.
Featured Story: What is the Ex-Dividend Date in Investing?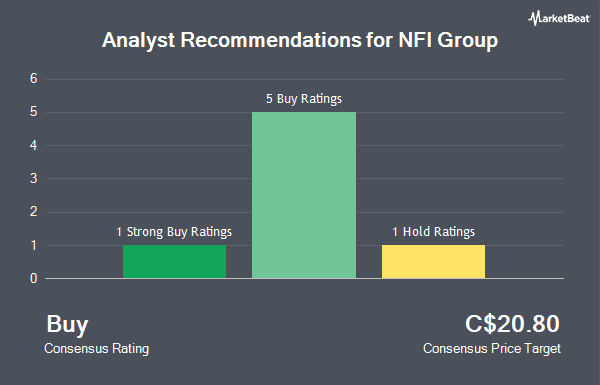 Receive News & Ratings for NFI Group Daily - Enter your email address below to receive a concise daily summary of the latest news and analysts' ratings for NFI Group and related companies with MarketBeat.com's FREE daily email newsletter.