Limelight Networks (NASDAQ:LLNW) issued an update on its FY18 earnings guidance on Thursday morning. The company provided EPS guidance of $0.14-0.17 for the period, compared to the Thomson Reuters consensus EPS estimate of $0.15. The company issued revenue guidance of $200-203 million, compared to the consensus revenue estimate of $202.78 million.Limelight Networks also updated its FY 2018 guidance to $0.14-0.17 EPS.
LLNW stock traded up $0.12 during trading on Thursday, reaching $5.08. 1,550,200 shares of the stock were exchanged, compared to its average volume of 966,573. Limelight Networks has a twelve month low of $3.69 and a twelve month high of $6.05. The company has a market cap of $565.46 million, a PE ratio of -254.00, a price-to-earnings-growth ratio of 12.17 and a beta of 2.33.
Limelight Networks (NASDAQ:LLNW) last released its earnings results on Thursday, July 19th. The information services provider reported $0.04 earnings per share for the quarter, topping analysts' consensus estimates of $0.03 by $0.01. Limelight Networks had a return on equity of 1.99% and a net margin of 6.43%. The business had revenue of $50.25 million for the quarter, compared to the consensus estimate of $49.64 million. During the same period last year, the business earned $0.03 earnings per share. The firm's revenue for the quarter was up 10.8% compared to the same quarter last year. Research analysts predict that Limelight Networks will post 0.03 EPS for the current fiscal year.
A number of equities research analysts recently weighed in on LLNW shares. TheStreet raised Limelight Networks from a c rating to a b- rating in a research report on Thursday, July 19th. Cowen reissued a buy rating and set a $6.50 target price on shares of Limelight Networks in a research report on Friday, July 20th. Craig Hallum started coverage on Limelight Networks in a research report on Monday, August 27th. They set a buy rating and a $6.00 target price on the stock. DA Davidson set a $7.00 price objective on Limelight Networks and gave the company a buy rating in a report on Monday, October 8th. Finally,
ValuEngine
downgraded Limelight Networks from a strong-buy rating to a buy rating in a report on Tuesday, June 26th. One equities research analyst has rated the stock with a sell rating, one has assigned a hold rating and six have assigned a buy rating to the company's stock. The company presently has a consensus rating of Buy and an average price target of $6.21.
In other Limelight Networks news, CEO Robert A. Lento sold 40,000 shares of Limelight Networks stock in a transaction that occurred on Wednesday, August 1st. The stock was sold at an average price of $4.42, for a total transaction of $176,800.00. The transaction was disclosed in a filing with the SEC, which can be accessed through this hyperlink. Also, insider Kurt Silverman sold 7,500 shares of Limelight Networks stock in a transaction that occurred on Thursday, August 30th. The shares were sold at an average price of $5.00, for a total value of $37,500.00. The disclosure for this sale can be found here. Insiders have sold 162,400 shares of company stock worth $778,516 over the last ninety days. Company insiders own 10.60% of the company's stock.
A hedge fund recently raised its stake in Limelight Networks stock. Bank of New York Mellon Corp grew its position in Limelight Networks, Inc. (NASDAQ:LLNW) by 4.8% in the second quarter, according to its most recent Form 13F filing with the Securities and Exchange Commission. The fund owned 651,824 shares of the information services provider's stock after acquiring an additional 29,619 shares during the period. Bank of New York Mellon Corp owned 0.58% of Limelight Networks worth $2,914,000 at the end of the most recent reporting period. Institutional investors own 72.84% of the company's stock.
About Limelight Networks
Limelight Networks, Inc provides content delivery and related services and solutions in the Americas, Europe, the Middle East, Africa, and the Asia Pacific. The company offers services and solutions for businesses to deliver their digital content across Internet, mobile, and social channels. It provides Orchestrate Platform, a suite of integrated services comprising content delivery, video content management, Website and Web application acceleration, Website and content security, and cloud storage services.
Further Reading: Compound Annual Growth Rate (CAGR)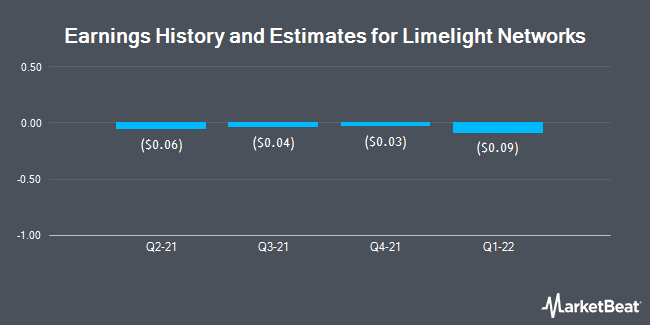 Receive News & Ratings for Limelight Networks Daily - Enter your email address below to receive a concise daily summary of the latest news and analysts' ratings for Limelight Networks and related companies with MarketBeat.com's FREE daily email newsletter.