Meggitt (LON:MGGT) had its target price upped by equities researchers at Goldman Sachs Group from GBX 575 ($7.51) to GBX 586 ($7.66) in a research note issued to investors on Wednesday. The firm presently has a "neutral" rating on the stock. Goldman Sachs Group's target price suggests a potential upside of 9.53% from the company's current price.
Several other brokerages have also commented on MGGT. Deutsche Bank reiterated a "hold" rating on shares of Meggitt in a report on Friday, August 17th. Credit Suisse Group increased their price objective on Meggitt from GBX 365 ($4.77) to GBX 450 ($5.88) and gave the company an "underperform" rating in a report on Wednesday, August 8th. Barclays lowered Meggitt to an "equal weight" rating and set a GBX 550 ($7.19) price objective for the company. in a report on Monday, August 13th. Berenberg Bank upgraded Meggitt to a "buy" rating in a report on Monday, July 9th. Finally, JPMorgan Chase & Co. increased their price objective on Meggitt from GBX 630 ($8.23) to GBX 645 ($8.43) and gave the company an "overweight" rating in a report on Tuesday, July 3rd. Two analysts have rated the stock with a sell rating, five have assigned a hold rating and three have assigned a buy rating to the company's stock. Meggitt has a consensus rating of "Hold" and an average target price of GBX 532 ($6.95).
Meggitt stock opened at GBX 535 ($6.99) on Wednesday. Meggitt has a twelve month low of GBX 430.90 ($5.63) and a twelve month high of GBX 530 ($6.93).
In other Meggitt news, insider Philip Ernest Green acquired 272 shares of the firm's stock in a transaction dated Tuesday, August 14th. The stock was purchased at an average price of GBX 551 ($7.20) per share, for a total transaction of £1,498.72 ($1,958.34).
About Meggitt
Meggitt PLC designs and manufactures components and sub-systems for aerospace, defense, energy, medical, industrial, test, and automotive markets in the United Kingdom, rest of Europe, the United States, and internationally. It operates through Meggitt Aircraft Braking Systems, Meggitt Control Systems, Meggitt Polymers & Composites, Meggitt Sensing Systems, and Meggitt Equipment Group segments.
Further Reading: How is a Moving Average Calculated?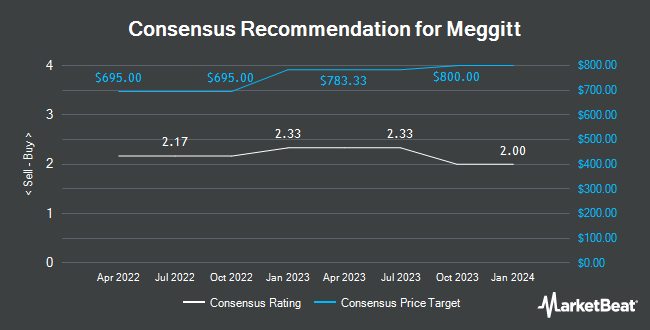 Receive News & Ratings for Meggitt Daily - Enter your email address below to receive a concise daily summary of the latest news and analysts' ratings for Meggitt and related companies with MarketBeat.com's FREE daily email newsletter.