Marten Transport (NASDAQ:MRTN) posted its quarterly earnings data on Tuesday. The transportation company reported $0.28 EPS for the quarter, beating analysts' consensus estimates of $0.26 by $0.02, Briefing.com reports. The company had revenue of $199.60 million during the quarter, compared to analysts' expectations of $203.10 million. Marten Transport had a return on equity of 7.82% and a net margin of 13.15%. Marten Transport's revenue for the quarter was up 16.9% compared to the same quarter last year. During the same quarter in the prior year, the business earned $0.14 earnings per share.
Shares of Marten Transport stock opened at $20.06 on Wednesday. Marten Transport has a 12 month low of $17.50 and a 12 month high of $29.60. The company has a market cap of $1.15 billion, a P/E ratio of 32.35 and a beta of 1.39.
The company also recently declared a quarterly dividend, which was paid on Friday, September 28th. Investors of record on Friday, September 14th were paid a dividend of $0.025 per share. This represents a $0.10 dividend on an annualized basis and a yield of 0.50%. The ex-dividend date was Thursday, September 13th. Marten Transport's payout ratio is presently 16.13%.
A number of analysts have commented on the company. BidaskClub cut Marten Transport from a "buy" rating to a "hold" rating in a research report on Friday, July 13th.
ValuEngine
cut Marten Transport from a "buy" rating to a "hold" rating in a research report on Saturday, September 22nd.
Zacks Investment Research
upgraded Marten Transport from a "hold" rating to a "buy" rating and set a $26.00 target price for the company in a research report on Friday, July 20th. Finally, Stifel Nicolaus raised Marten Transport from a "sell" rating to a "hold" rating and set a $21.00 price target for the company in a research note on Wednesday, August 29th. They noted that the move was a valuation call. One equities research analyst has rated the stock with a sell rating, four have issued a hold rating and one has given a buy rating to the stock. The company has a consensus rating of "Hold" and an average target price of $25.50.
About Marten Transport
Marten Transport, Ltd. operates as a temperature-sensitive truckload carrier for shippers in the United States, Canada, and Mexico. It operates through four segments: Truckload, Dedicated, Intermodal, and Brokerage. The Truckload segment transports food and other consumer packaged goods that require a temperature-controlled or insulated environment.
See Also: Conference Calls and Individual Investors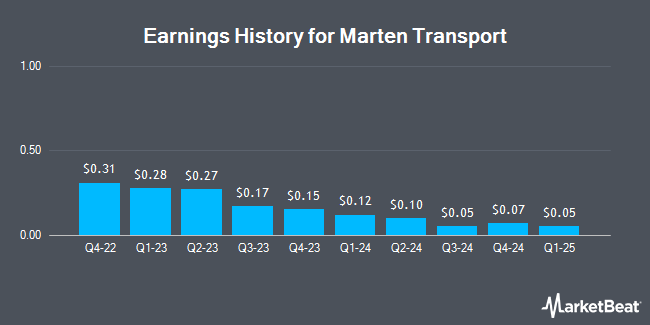 Receive News & Ratings for Marten Transport Daily - Enter your email address below to receive a concise daily summary of the latest news and analysts' ratings for Marten Transport and related companies with MarketBeat.com's FREE daily email newsletter.