Ferrexpo (LON:FXPO)'s stock had its "buy" rating reaffirmed by stock analysts at Citigroup in a research report issued to clients and investors on Tuesday. They currently have a GBX 280 ($3.65) price target on the iron ore producer's stock. Citigroup's price target points to a potential upside of 38.61% from the company's current price.
Several other equities research analysts have also recently issued reports on the company. JPMorgan Chase & Co. reaffirmed an "overweight" rating on shares of Ferrexpo in a report on Monday, September 10th. Deutsche Bank reaffirmed a "hold" rating on shares of Ferrexpo in a report on Friday, August 10th. Liberum Capital raised Ferrexpo to a "hold" rating in a report on Thursday, July 26th. Barclays reduced their target price on Ferrexpo from GBX 185 ($2.41) to GBX 140 ($1.82) and set an "underweight" rating on the stock in a report on Wednesday, July 18th. Finally, HSBC raised Ferrexpo to a "buy" rating and lifted their target price for the stock from GBX 250 ($3.26) to GBX 275 ($3.58) in a report on Tuesday, June 19th. One analyst has rated the stock with a sell rating, four have issued a hold rating and three have assigned a buy rating to the company's stock. The stock currently has a consensus rating of "Hold" and a consensus target price of GBX 214.13 ($2.79).
Shares of FXPO stock opened at GBX 202 ($2.63) on Tuesday. Ferrexpo has a 12-month low of GBX 136.88 ($1.78) and a 12-month high of GBX 326.60 ($4.25).
In related news, insider Simon Lockett acquired 50,000 shares of Ferrexpo stock in a transaction on Thursday, August 9th. The shares were bought at an average cost of GBX 171 ($2.23) per share, with a total value of £85,500 ($111,371.63).
Ferrexpo Company Profile
Ferrexpo plc mines for, develops, processes, produces, markets, exports, and sells iron ore pellets to the metallurgical industry worldwide. The company operates two open-pit mines and a processing plant near Kremenchug in Ukraine; a port in Odessa; a fleet of vessels operating on the Rhine and Danube waterways; and an ocean going vessel on international sea routes.
Recommended Story: What are the reasons investors use put options?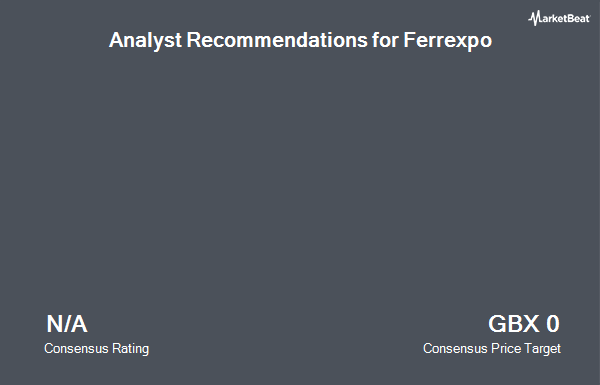 Receive News & Ratings for Ferrexpo Daily - Enter your email address below to receive a concise daily summary of the latest news and analysts' ratings for Ferrexpo and related companies with MarketBeat.com's FREE daily email newsletter.