Brown-Forman (NYSE:BF.B) was upgraded by Zacks Investment Research from a "sell" rating to a "hold" rating in a report issued on Tuesday.
According to Zacks, "Brown-Forman outperformed the industry in the past three months driven by a robust surprise trend. The company delivered fifth straight earnings beat in first-quarter fiscal 2019, with a positive sales surprise in four of the last five quarters. Further, the company is gaining from solid growth in underlying sales, improved margins, continued momentum in focus categories and strength in American whiskey. Management also remains confident of capitalizing on its American Whiskey strategy while benefiting from investments in its brands' portfolio. However, it trimmed earnings view for fiscal 2019 reflecting the anticipated impacts of Trump's tariffs on operating income. Trump's 25% increase in tariffs on imported American whiskey is likely to raise the price of Jack Daniel's Tennessee in the European Union. This may hurt the demand for Jack Daniel's whiskey in Europe, which accounts for nearly one-fourth of its revenues."
BF.B has been the topic of a number of other research reports. Cowen raised shares of Brown-Forman from a "market perform" rating to an "outperform" rating in a report on Tuesday, July 17th. Jefferies Financial Group started coverage on shares of Brown-Forman in a report on Friday, September 7th. They issued a "hold" rating on the stock. Deutsche Bank increased their price target on shares of Brown-Forman from $52.00 to $53.00 and gave the stock a "hold" rating in a report on Thursday, August 30th. Morgan Stanley raised shares of Brown-Forman from an "underweight" rating to an "equal weight" rating in a report on Thursday, June 28th. Finally, ValuEngine raised shares of Brown-Forman from a "hold" rating to a "buy" rating in a report on Monday, July 16th. One research analyst has rated the stock with a sell rating, eleven have given a hold rating and three have given a buy rating to the stock. The company currently has a consensus rating of "Hold" and a consensus target price of $52.92.
Brown-Forman stock
opened at $50.49 on Tuesday. The company has a market cap of $24.14 billion, a P/E ratio of 31.83, a PEG ratio of 3.32 and a beta of 0.81. Brown-Forman has a 1-year low of $42.58 and a 1-year high of $59.58. The company has a debt-to-equity ratio of 1.69, a quick ratio of 1.35 and a current ratio of 3.02.
Brown-Forman (NYSE:BF.B) last issued its quarterly earnings results on Wednesday, August 29th. The company reported $0.41 EPS for the quarter, topping the Zacks' consensus estimate of $0.39 by $0.02. The firm had revenue of $766.00 million for the quarter, compared to analyst estimates of $761.97 million. Brown-Forman had a net margin of 19.34% and a return on equity of 55.19%. The business's revenue for the quarter was up 5.9% compared to the same quarter last year. During the same quarter in the prior year, the firm earned $0.46 EPS. research analysts expect that Brown-Forman will post 1.68 EPS for the current year.
Brown-Forman Company Profile
Brown-Forman Corporation is a spirit and wine company. The Company manufactures, bottles, imports, exports, markets and sells a range of alcoholic beverages. The Company has a portfolio of approximately 40 spirit, wine and ready-to-drink cocktail (RTD) brands. Its principal brands include Jack Daniel's Tennessee Whiskey, Jack Daniel's RTDs, Jack Daniel's Tennessee Honey, Gentleman Jack Rare Tennessee Whiskey, Jack Daniel's Tennessee Fire, Jack Daniel's Single Barrel Collection, Jack Daniel's Sinatra Select, Jack Daniel's Winter Jack, Jack Daniel's No.
Featured Article: How to Invest in an Index Fund
Get a free copy of the Zacks research report on Brown-Forman (BF.B)
For more information about research offerings from Zacks Investment Research, visit Zacks.com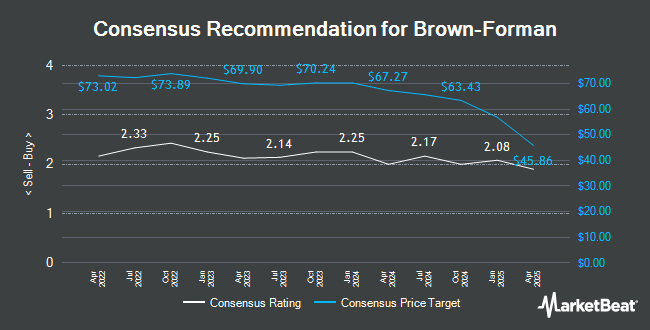 Receive News & Ratings for Brown-Forman Daily - Enter your email address below to receive a concise daily summary of the latest news and analysts' ratings for Brown-Forman and related companies with MarketBeat.com's FREE daily email newsletter.