Drax Group (LON:DRX)'s stock had its "neutral" rating restated by equities researchers at Citigroup in a research note issued on Tuesday. They currently have a GBX 373 ($4.86) price target on the stock. Citigroup's price objective would indicate a potential downside of 0.05% from the company's previous close.
Other analysts have also issued reports about the stock. JPMorgan Chase & Co. boosted their target price on shares of Drax Group from GBX 350 ($4.56) to GBX 400 ($5.21) and gave the company an "overweight" rating in a research report on Tuesday. Credit Suisse Group lifted their price target on shares of Drax Group from GBX 350 ($4.56) to GBX 410 ($5.34) and gave the company an "outperform" rating in a report on Thursday, July 26th. Deutsche Bank reaffirmed a "hold" rating on shares of Drax Group in a report on Wednesday, July 11th. Royal Bank of Canada raised shares of Drax Group to a "top pick" rating in a report on Monday, July 9th. Finally, Morgan Stanley reaffirmed an "equal weight" rating and set a GBX 380 ($4.95) price target on shares of Drax Group in a report on Monday, September 10th. Six analysts have rated the stock with a hold rating, three have given a buy rating and one has assigned a strong buy rating to the company. Drax Group presently has an average rating of "Buy" and a consensus price target of GBX 380.33 ($4.95).
LON DRX traded up GBX 12.20 ($0.16) during trading hours on Tuesday, hitting GBX 373.20 ($4.86). 1,641,922 shares of the company's stock traded hands, compared to its average volume of 1,090,000. Drax Group has a 52 week low of GBX 218 ($2.84) and a 52 week high of GBX 368.70 ($4.80).
About Drax Group
Drax Group plc, together with its subsidiaries, engages in the generation and supply of electricity in the United Kingdom. It operates through three segments: Power Generation, Pellet Production, and B2B Energy Supply. The company owns and operates Drax Power Station that produces electricity from biomass located in Selby, North Yorkshire; and develops open-cycle gas turbine projects.
Recommended Story: What does the Dow Jones Industrial Average (DJIA) measure?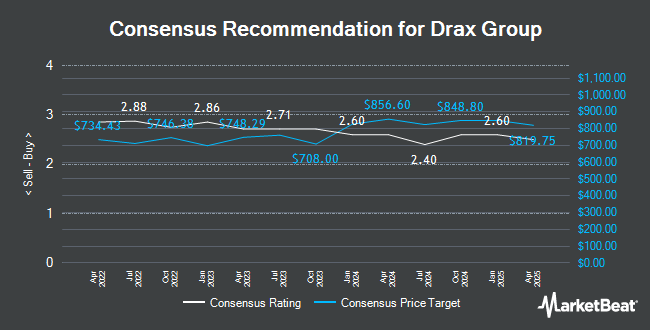 Receive News & Ratings for Drax Group Daily - Enter your email address below to receive a concise daily summary of the latest news and analysts' ratings for Drax Group and related companies with MarketBeat.com's FREE daily email newsletter.