Shares of Cominar REIT (TSE:CUF.UN) have been given an average recommendation of "Hold" by the eleven brokerages that are presently covering the firm, MarketBeat Ratings reports. Five equities research analysts have rated the stock with a hold rating and four have issued a buy rating on the company. The average 12-month price objective among brokers that have updated their coverage on the stock in the last year is C$14.32.
CUF.UN has been the topic of several recent research reports. Industrial Alliance Securities decreased their price target on Cominar REIT from C$14.50 to C$14.25 in a report on Monday, August 13th. CIBC restated a "neutral" rating and set a C$14.00 price target on shares of Cominar REIT in a report on Wednesday, July 4th. Finally, BMO Capital Markets restated an "outperform" rating and set a C$14.00 price target on shares of Cominar REIT in a report on Thursday, June 21st.
Shares of CUF.UN traded down C$0.10 during mid-day trading on Monday, hitting C$12.16. 163,982 shares of the stock were exchanged, compared to its average volume of 508,252. Cominar REIT has a 52-week low of C$11.84 and a 52-week high of C$14.95.
Cominar REIT Company Profile
Cominar REIT is a Canada-based real estate investment trust (REIT). The Company is a commercial property owner and manager in the province of Quebec. Its segments include Office, Retail, and Industrial and mixed-use. Its activities include a portfolio of three property types, including office properties, retail properties, and industrial and mixed-use properties located in Canadian provinces.
See Also: Average Daily Trade Volume Explained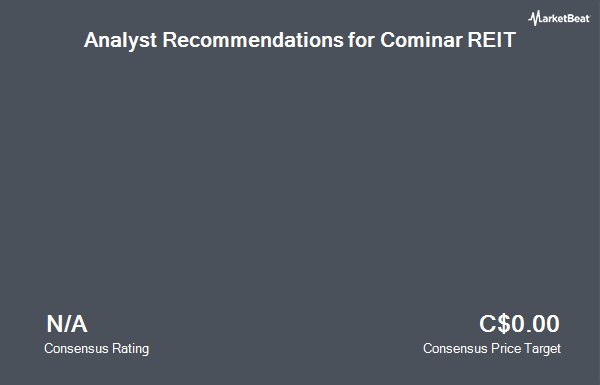 Receive News & Ratings for Cominar REIT Daily - Enter your email address below to receive a concise daily summary of the latest news and analysts' ratings for Cominar REIT and related companies with MarketBeat.com's FREE daily email newsletter.