SThree Plc (LON:STHR) insider Gary Elden acquired 4,973 shares of the stock in a transaction dated Friday, September 7th. The shares were bought at an average cost of GBX 329 ($4.24) per share, for a total transaction of £16,361.17 ($21,105.74).
STHR opened at GBX 347 ($4.48) on Friday. SThree Plc has a 12-month low of GBX 280.50 ($3.62) and a 12-month high of GBX 390 ($5.03).
SThree (LON:STHR) last released its earnings results on Monday, July 23rd. The company reported GBX 10.10 ($0.13) earnings per share (EPS) for the quarter. SThree had a return on equity of 35.54% and a net margin of 2.27%.
The firm also recently announced a dividend, which will be paid on Friday, December 7th. Shareholders of record on Thursday, November 1st will be issued a GBX 4.70 ($0.06) dividend. This represents a yield of 1.34%. The ex-dividend date of this dividend is Thursday, November 1st.
STHR has been the topic of a number of analyst reports. Liberum Capital reissued a "buy" rating and set a GBX 425 ($5.48) price objective on shares of SThree in a report on Monday, June 11th. Numis Securities reissued an "add" rating and set a GBX 400 ($5.16) price objective on shares of SThree in a report on Monday, June 18th. UBS Group reissued a "buy" rating on shares of SThree in a report on Wednesday, July 4th. Finally, Jefferies Financial Group raised SThree to a "buy" rating and increased their price objective for the company from GBX 320 ($4.13) to GBX 450 ($5.80) in a report on Monday, August 6th. One research analyst has rated the stock with a hold rating and four have assigned a buy rating to the company's stock. SThree presently has an average rating of "Buy" and an average price target of GBX 431.25 ($5.56).
SThree Company Profile
SThree plc provides recruitment services for science, technology, engineering, and mathematics industries. It offers permanent, contract, retained, and executive search recruitment solutions for individuals and projects. The company offers its services under the Computer Futures, Progressive, Real, Huxley, Global Enterprise Partners, Hyden, JP Gray, Madison Black, Newington International, and Orgtel brands.
Read More: How Do You Calculate Return on Investment (ROI)?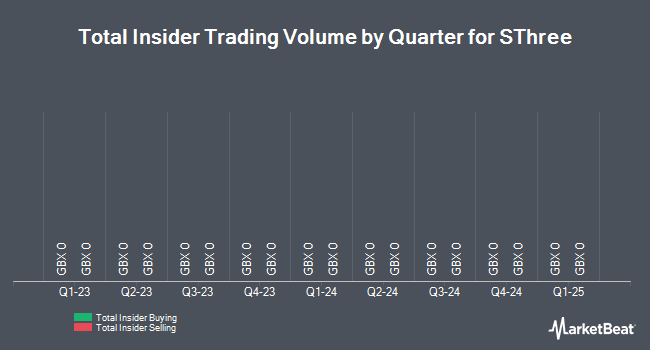 Receive News & Ratings for SThree Daily - Enter your email address below to receive a concise daily summary of the latest news and analysts' ratings for SThree and related companies with MarketBeat.com's FREE daily email newsletter.