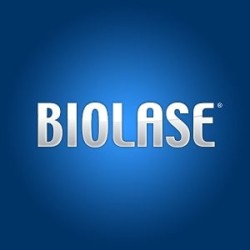 BIOLASE Inc (NASDAQ:BIOL) Director Jonathan T. Md Lord bought 100,000 shares of BIOLASE stock in a transaction dated Tuesday, August 14th. The shares were acquired at an average price of $1.31 per share, with a total value of $131,000.00. Following the completion of the purchase, the director now owns 536,547 shares in the company, valued at approximately $702,876.57. The purchase was disclosed in a filing with the SEC, which can be accessed through this hyperlink.
BIOLASE stock opened at $1.94 on Friday. The company has a current ratio of 2.56, a quick ratio of 1.54 and a debt-to-equity ratio of 0.08. BIOLASE Inc has a 52 week low of $1.14 and a 52 week high of $3.95.
BIOLASE (NASDAQ:BIOL) last released its earnings results on Thursday, August 9th. The medical technology company reported ($0.20) EPS for the quarter, meeting the Thomson Reuters' consensus estimate of ($0.20). The company had revenue of $12.15 million during the quarter. BIOLASE had a negative return on equity of 69.03% and a negative net margin of 40.31%.
About BIOLASE
BIOLASE, Inc, a medical device company, develops, manufactures, markets, and sells laser systems in dentistry and medicine for patients and health care professionals in the United States and internationally. The company offers Waterlase all-tissue dental laser systems for cutting soft and hard tissues; and diode laser systems, which are used to perform soft tissue, pain therapy, and cosmetic procedures, including teeth whitening.
Featured Article: New Google Finance Tool and Screening Stocks
Receive News & Ratings for BIOLASE Daily - Enter your email address below to receive a concise daily summary of the latest news and analysts' ratings for BIOLASE and related companies with MarketBeat.com's FREE daily email newsletter.