Liberum Capital restated their hold rating on shares of easyJet (LON:EZJ) in a research note issued to investors on Wednesday.
Several other research analysts have also issued reports on the company. AlphaValue upgraded easyJet to an add rating in a report on Thursday, May 17th. HSBC reiterated a buy rating on shares of easyJet in a report on Thursday, May 3rd. Morgan Stanley set a GBX 2,000 ($26.47) target price on easyJet and gave the company a buy rating in a report on Wednesday, May 16th. Oddo Securities upgraded easyJet to a buy rating and dropped their target price for the company from GBX 2,100 ($27.80) to GBX 2,050 ($27.13) in a report on Thursday, April 26th. Finally, UBS Group restated a buy rating on shares of easyJet in a report on Friday, April 6th. Fifteen research analysts have rated the stock with a hold rating and thirteen have given a buy rating to the stock. easyJet presently has a consensus rating of Hold and a consensus target price of GBX 1,785.12 ($23.63).
easyJet opened at GBX 1,650.50 ($21.85) on Wednesday, according to MarketBeat Ratings. easyJet has a one year low of GBX 977.38 ($12.94) and a one year high of GBX 1,698.69 ($22.48).
In other easyJet news, insider Chris Brocklesby sold 2,330 shares of the firm's stock in a transaction on Wednesday, June 20th. The stock was sold at an average price of GBX 1,803 ($23.86), for a total value of £42,009.90 ($55,605.43). Insiders acquired 27 shares of company stock valued at $45,441 over the last three months.
easyJet Company Profile
easyJet plc, together with its subsidiaries, operates as an airline carrier primarily in Europe. As of September 30, 2017, it operated 862 routes and a fleet of 279 aircraft. The company also engages in the trading and leasing of aircrafts; and the provision of graphic design services. easyJet plc was founded in 1995 and is based in Luton, the United Kingdom.
Featured Story: Earnings Per Share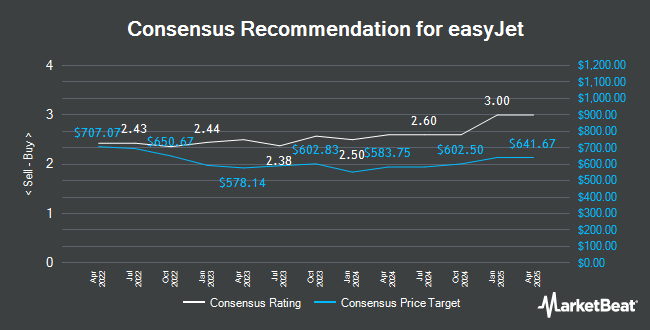 Receive News & Ratings for easyJet Daily - Enter your email address below to receive a concise daily summary of the latest news and analysts' ratings for easyJet and related companies with MarketBeat.com's FREE daily email newsletter.