Shares of Coca Cola HBC AG (LON:CCH) have been given a consensus recommendation of "Hold" by the eleven analysts that are presently covering the stock, Marketbeat reports. One investment analyst has rated the stock with a sell recommendation, five have issued a hold recommendation and five have assigned a buy recommendation to the company. The average 12 month price target among brokers that have covered the stock in the last year is GBX 2,687.78 ($35.78).
CCH has been the topic of several analyst reports. Societe Generale raised shares of Coca Cola HBC to a "buy" rating and increased their target price for the stock from GBX 2,758 ($36.72) to GBX 2,940 ($39.14) in a research report on Thursday. Shore Capital reissued a "hold" rating on shares of Coca Cola HBC in a research report on Monday. JPMorgan Chase & Co. increased their target price on shares of Coca Cola HBC from GBX 2,400 ($31.95) to GBX 2,500 ($33.28) and gave the stock a "neutral" rating in a research report on Friday, May 11th. Citigroup lowered their target price on shares of Coca Cola HBC from GBX 2,900 ($38.61) to GBX 2,800 ($37.28) and set a "buy" rating on the stock in a research report on Wednesday, May 9th. Finally, Deutsche Bank reissued a "buy" rating and set a GBX 2,850 ($37.94) target price on shares of Coca Cola HBC in a research report on Friday, February 16th.
In other news, insider Zoran Bogdanovic purchased 893 shares of the firm's stock in a transaction on Tuesday, April 17th. The stock was bought at an average cost of GBX 2,486 ($33.10) per share, for a total transaction of £22,199.98 ($29,556.62). Also, insider Michalis Imellos purchased 43 shares of the firm's stock in a transaction on Thursday, May 17th. The shares were purchased at an average price of GBX 2,586 ($34.43) per share, with a total value of £1,111.98 ($1,480.47). Insiders have acquired 1,086 shares of company stock valued at $2,714,446 over the last 90 days.
Shares of
LON CCH
traded down GBX 2 ($0.03) during mid-day trading on Thursday, reaching GBX 2,599 ($34.60). The company had a trading volume of 487,028 shares, compared to its average volume of 875,987. Coca Cola HBC has a twelve month low of GBX 1,969 ($26.21) and a twelve month high of GBX 2,682 ($35.71).
The firm also recently announced a dividend, which will be paid on Tuesday, July 24th. Shareholders of record on Thursday, June 28th will be given a dividend of €0.54 ($0.63) per share. This represents a yield of 1.92%. This is an increase from Coca Cola HBC's previous dividend of $0.44. The ex-dividend date is Thursday, June 28th.
About Coca Cola HBC
Coca-Cola HBC AG produces, distributes, and sells non-alcoholic ready-to-drink beverages. The company offers sparkling soft drinks; still drinks, including juices and fruit-based drinks, iced tea, coffee, and energy and sports drinks; and natural mineral, spring, and processed water. It markets and sells its products under the Coca-Cola, Coca-Cola Light, Coca-Cola Zero, Fanta, Sprite, Amita, Avra, Deep RiverRock, Fruice, and Nestea brand names; and distributes third-party products, such as Monster energy drinks, and beer and premium spirits.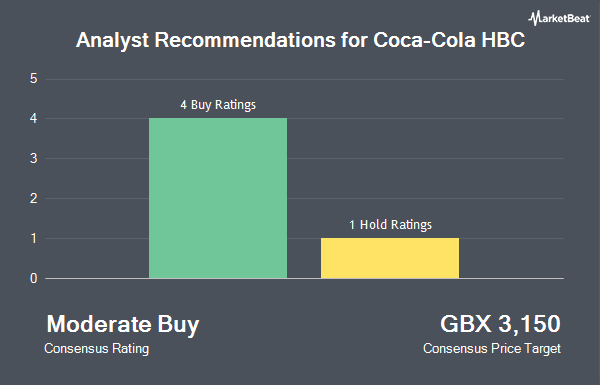 Receive News & Ratings for Coca Cola HBC Daily - Enter your email address below to receive a concise daily summary of the latest news and analysts' ratings for Coca Cola HBC and related companies with MarketBeat.com's FREE daily email newsletter.