Terex Co. (NYSE:TEX) – Equities research analysts at Seaport Global Securities raised their Q2 2018 earnings estimates for Terex in a research report issued on Tuesday. Seaport Global Securities analyst M. Shlisky now forecasts that the industrial products company will post earnings of $0.90 per share for the quarter, up from their prior estimate of $0.85. Seaport Global Securities also issued estimates for Terex's Q3 2018 earnings at $0.75 EPS, Q4 2018 earnings at $0.48 EPS and FY2018 earnings at $2.48 EPS.
A number of other analysts also recently commented on the company. OTR Global raised Terex to a "positive" rating in a research report on Tuesday, December 5th. Zacks Investment Research lowered Terex from a "strong-buy" rating to a "hold" rating in a research note on Wednesday, December 20th. Robert W. Baird restated a "buy" rating and issued a $52.00 price objective on shares of Terex in a research note on Thursday, December 21st. Barclays started coverage on Terex in a research note on Tuesday, December 12th. They issued an "equal weight" rating and a $50.00 price objective for the company. Finally, KeyCorp restated a "hold" rating on shares of Terex in a research note on Wednesday, November 1st. One investment analyst has rated the stock with a sell rating, nine have assigned a hold rating, six have issued a buy rating and two have issued a strong buy rating to the company's stock. The stock currently has a consensus rating of "Buy" and an average price target of $46.00.
Shares of Terex (
NYSE TEX
) traded up $0.68 on Wednesday, hitting $43.52. The company had a trading volume of 211,762 shares, compared to its average volume of 1,345,820. The company has a quick ratio of 1.53, a current ratio of 2.30 and a debt-to-equity ratio of 0.80. The stock has a market capitalization of $3,600.00, a P/E ratio of 34.35, a price-to-earnings-growth ratio of 1.06 and a beta of 1.71. Terex has a one year low of $28.67 and a one year high of $50.17.
Terex (NYSE:TEX) last issued its quarterly earnings results on Wednesday, February 14th. The industrial products company reported $0.33 EPS for the quarter, beating the Zacks' consensus estimate of $0.25 by $0.08. The company had revenue of $1.06 billion during the quarter, compared to the consensus estimate of $999.18 million. Terex had a return on equity of 8.80% and a net margin of 2.95%.
Terex announced that its Board of Directors has authorized a stock repurchase program on Wednesday, February 7th that allows the company to buyback $325.00 million in outstanding shares. This buyback authorization allows the industrial products company to purchase shares of its stock through open market purchases. Shares buyback programs are generally an indication that the company's leadership believes its shares are undervalued.
The company also recently announced a quarterly dividend, which will be paid on Monday, March 19th. Investors of record on Friday, March 9th will be issued a $0.10 dividend. The ex-dividend date of this dividend is Thursday, March 8th. This represents a $0.40 annualized dividend and a yield of 0.92%. This is an increase from Terex's previous quarterly dividend of $0.08. Terex's dividend payout ratio is currently 25.40%.
In related news, VP Eric I. Cohen sold 10,121 shares of the company's stock in a transaction on Thursday, January 25th. The shares were sold at an average price of $49.90, for a total value of $505,037.90. Following the completion of the transaction, the vice president now owns 185,897 shares of the company's stock, valued at approximately $9,276,260.30. The sale was disclosed in a legal filing with the Securities & Exchange Commission, which is available at this link. Insiders purchased a total of 987 shares of company stock valued at $44,638 in the last ninety days. 2.50% of the stock is currently owned by insiders.
Institutional investors have recently modified their holdings of the stock. PNC Financial Services Group Inc. boosted its position in Terex by 4.7% during the second quarter. PNC Financial Services Group Inc. now owns 5,825 shares of the industrial products company's stock worth $220,000 after acquiring an additional 262 shares during the last quarter. Sterling Capital Management LLC purchased a new stake in Terex during the 2nd quarter worth approximately $768,000. Assenagon Asset Management S.A. purchased a new stake in Terex during the 3rd quarter worth approximately $15,705,000. Oakbrook Investments LLC purchased a new stake in Terex during the 3rd quarter worth approximately $320,000. Finally, Fox Run Management L.L.C. purchased a new stake in Terex during the 3rd quarter worth approximately $608,000. 94.09% of the stock is owned by institutional investors.
TRADEMARK VIOLATION WARNING: This article was first reported by Chaffey Breeze and is the property of of Chaffey Breeze. If you are viewing this article on another site, it was copied illegally and reposted in violation of US & international copyright & trademark laws. The correct version of this article can be viewed at https://www.chaffeybreeze.com/2018/02/23/q2-2018-eps-estimates-for-terex-co-increased-by-seaport-global-securities-tex.html.
About Terex
Terex Corporation is a manufacturer of lifting and material processing products and services that deliver lifecycle solutions. The Company has three business segments: Aerial Work Platforms (AWP), Cranes and Materials Processing (MP). It delivers lifecycle solutions to a range of industries, including the construction, infrastructure, manufacturing, shipping, utility, quarrying and mining industries.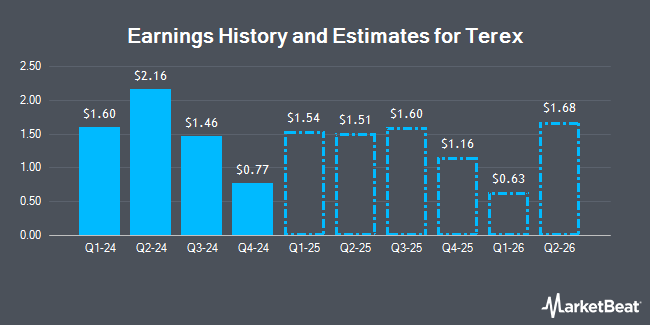 Receive News & Ratings for Terex Daily - Enter your email address below to receive a concise daily summary of the latest news and analysts' ratings for Terex and related companies with MarketBeat.com's FREE daily email newsletter.