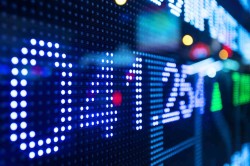 Stewardship Financial (NASDAQ:SSFN) is scheduled to be posting its quarterly earnings results after the market closes on Wednesday, February 21st.
Shares of Stewardship Financial (SSFN) opened at $11.25 on Tuesday. Stewardship Financial has a 12-month low of $7.92 and a 12-month high of $12.75. The company has a market cap of $97.26, a price-to-earnings ratio of 15.41 and a beta of 0.21. The company has a debt-to-equity ratio of 1.24, a current ratio of 0.94 and a quick ratio of 0.94.
The firm also recently declared a quarterly dividend, which was paid on Thursday, February 15th. Investors of record on Thursday, February 1st were given a $0.03 dividend. The ex-dividend date of this dividend was Wednesday, January 31st. This represents a $0.12 annualized dividend and a yield of 1.07%. Stewardship Financial's dividend payout ratio (DPR) is 16.44%.
Separately, TheStreet upgraded shares of Stewardship Financial from a "c+" rating to a "b" rating in a research report on Monday, December 4th.
An institutional investor recently raised its position in Stewardship Financial stock. Vanguard Group Inc. grew its position in shares of Stewardship Financial Co. (NASDAQ:SSFN) by 21.1% in the second quarter, according to the company in its most recent 13F filing with the SEC. The fund owned 33,821 shares of the bank's stock after buying an additional 5,882 shares during the quarter. Vanguard Group Inc. owned 0.39% of Stewardship Financial worth $321,000 as of its most recent filing with the SEC. 20.72% of the stock is owned by hedge funds and other institutional investors.
ILLEGAL ACTIVITY NOTICE: This piece was posted by Chaffey Breeze and is the sole property of of Chaffey Breeze. If you are viewing this piece on another domain, it was illegally copied and reposted in violation of international trademark and copyright laws. The original version of this piece can be viewed at https://www.chaffeybreeze.com/2018/02/20/stewardship-financial-ssfn-scheduled-to-post-quarterly-earnings-on-wednesday.html.
About Stewardship Financial
Stewardship Financial Corporation is a one-bank holding company for Atlantic Stewardship Bank (the Bank). The Company's principal business is the ownership and supervision of the Bank. The Company, through the Bank, conducts commercial banking business and offers deposit services, including personal and business checking accounts and time deposits, money market accounts and regular savings accounts.
Receive News & Ratings for Stewardship Financial Daily - Enter your email address below to receive a concise daily summary of the latest news and analysts' ratings for Stewardship Financial and related companies with MarketBeat.com's FREE daily email newsletter.