Shares of Dcc Plc (LON:DCC) have received a consensus recommendation of "Buy" from the nine research firms that are currently covering the stock, Marketbeat.com reports. Two research analysts have rated the stock with a hold recommendation and seven have given a buy recommendation to the company. The average 12 month target price among brokerages that have updated their coverage on the stock in the last year is GBX 8,147.50 ($112.57).
DCC has been the subject of a number of research reports. JPMorgan Chase & Co. reaffirmed an "overweight" rating and issued a GBX 8,160 ($112.74) target price on shares of DCC in a report on Wednesday, November 15th. Peel Hunt reaffirmed an "add" rating and issued a GBX 7,247 ($100.12) target price on shares of DCC in a report on Tuesday, November 7th. Berenberg Bank upped their target price on shares of DCC from GBX 8,500 ($117.44) to GBX 8,700 ($120.20) and gave the company a "buy" rating in a report on Monday, November 20th. Finally, Canaccord Genuity reaffirmed a "buy" rating and issued a GBX 8,000 ($110.53) target price on shares of DCC in a report on Tuesday, November 7th.
Shares of DCC (LON DCC) traded up GBX 25 ($0.35) during trading hours on Thursday, hitting GBX 6,685 ($92.36). 290,790 shares of the stock were exchanged, compared to its average volume of 222,243. DCC has a 1-year low of GBX 6,615 ($91.39) and a 1-year high of GBX 7,762.50 ($107.25).
ILLEGAL ACTIVITY NOTICE: "Dcc Plc (DCC) Given Consensus Recommendation of "Buy" by Brokerages" was first posted by Chaffey Breeze and is the property of of Chaffey Breeze. If you are viewing this report on another publication, it was stolen and reposted in violation of international trademark & copyright law. The correct version of this report can be read at https://www.chaffeybreeze.com/2018/02/20/dcc-plc-dcc-given-consensus-recommendation-of-buy-by-brokerages.html.
DCC Company Profile
DCC plc provides sales, marketing, and business support services worldwide. The company's DCC Energy segment offers oil and liquefied petroleum gas products to commercial, retail, agricultural, industrial, marine, and other customers, as well as fuel cards. This segment serves approximately 1.4 million customers in approximately 9 countries.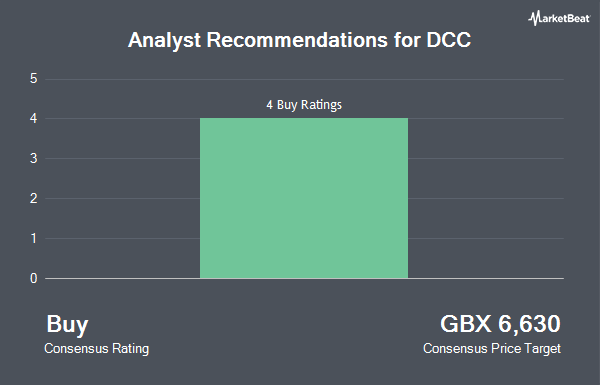 Receive News & Ratings for DCC Daily - Enter your email address below to receive a concise daily summary of the latest news and analysts' ratings for DCC and related companies with MarketBeat.com's FREE daily email newsletter.