Invesco Mortgage Capital (NYSE:IVR) is set to release its earnings data after the market closes on Tuesday, February 20th. Analysts expect Invesco Mortgage Capital to post earnings of $0.42 per share for the quarter.
Shares of Invesco Mortgage Capital (IVR) opened at $16.35 on Monday. The company has a market capitalization of $1,820.00, a P/E ratio of 5.14 and a beta of 0.67. The company has a quick ratio of 0.01, a current ratio of 0.01 and a debt-to-equity ratio of 0.86. Invesco Mortgage Capital has a twelve month low of $14.72 and a twelve month high of $18.86.
The business also recently disclosed a quarterly dividend, which was paid on Friday, January 26th. Stockholders of record on Tuesday, December 26th were issued a $0.42 dividend. This represents a $1.68 annualized dividend and a dividend yield of 10.28%. The ex-dividend date of this dividend was Friday, December 22nd. This is an increase from Invesco Mortgage Capital's previous quarterly dividend of $0.41. Invesco Mortgage Capital's dividend payout ratio is presently 52.83%.
Several research firms have recently commented on IVR. Credit Suisse Group downgraded Invesco Mortgage Capital from an "outperform" rating to a "neutral" rating and increased their price objective for the company from $17.74 to $18.00 in a report on Thursday, January 25th. Keefe, Bruyette & Woods reissued a "buy" rating and issued a $18.25 price objective on shares of Invesco Mortgage Capital in a report on Thursday, October 26th. One investment analyst has rated the stock with a sell rating, three have given a hold rating, two have issued a buy rating and one has issued a strong buy rating to the company. Invesco Mortgage Capital currently has a consensus rating of "Hold" and a consensus price target of $18.08.
WARNING: This piece was first reported by Chaffey Breeze and is owned by of Chaffey Breeze. If you are reading this piece on another domain, it was illegally copied and reposted in violation of United States and international copyright and trademark legislation. The correct version of this piece can be accessed at https://www.chaffeybreeze.com/2018/02/19/invesco-mortgage-capital-ivr-set-to-announce-quarterly-earnings-on-tuesday.html.
About Invesco Mortgage Capital
Invesco Mortgage Capital Inc is a holding company, which conducts its businesses through IAS Operating Partnership LP (the Operating Partnership) and subsidiaries. The Company's objective is to provide risk-adjusted returns to its investors through dividends and through capital appreciation. It invests in residential mortgage-backed securities that are guaranteed by the United States Government agency, such as the Government National Mortgage Association or a federally chartered corporation, such as the Federal National Mortgage Association or the Federal Home Loan Mortgage Corporation (collectively Agency RMBS); RMBS that are not guaranteed by the United States Government agency; Credit risk transfer securities that are unsecured obligations issued by government-sponsored enterprises; commercial mortgage-backed securities; residential and commercial mortgage loans, and other real estate-related financing arrangements.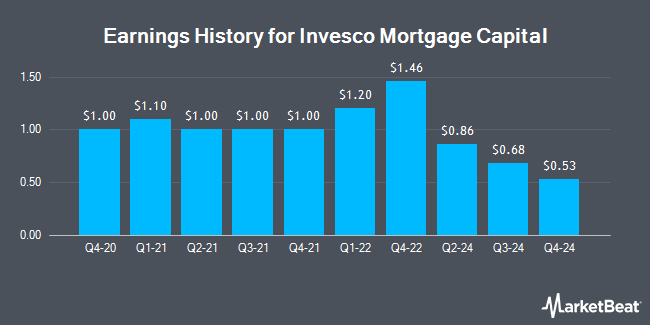 Receive News & Ratings for Invesco Mortgage Capital Daily - Enter your email address below to receive a concise daily summary of the latest news and analysts' ratings for Invesco Mortgage Capital and related companies with MarketBeat.com's FREE daily email newsletter.