Century Communities (NYSE:CCS) announced its earnings results on Tuesday. The construction company reported $1.01 earnings per share (EPS) for the quarter, topping the consensus estimate of $0.61 by $0.40, Bloomberg Earnings reports. Century Communities had a return on equity of 12.73% and a net margin of 3.55%. The firm had revenue of $518.79 million during the quarter, compared to analyst estimates of $507.29 million.
Shares of Century Communities (CCS) opened at $31.40 on Thursday. The company has a debt-to-equity ratio of 1.19, a current ratio of 0.87 and a quick ratio of 0.87. The firm has a market capitalization of $807.89, a P/E ratio of 10.46 and a beta of 1.11. Century Communities has a 52 week low of $21.90 and a 52 week high of $36.00.
Several brokerages have recently issued reports on CCS. Wedbush reissued an "outperform" rating and issued a $42.00 target price on shares of Century Communities in a research report on Wednesday. B. Riley reissued a "buy" rating on shares of Century Communities in a research report on Friday, November 3rd. Zacks Investment Research upgraded Century Communities from a "hold" rating to a "buy" rating and set a $36.00 price target on the stock in a research note on Wednesday, January 3rd. Finally, ValuEngine upgraded Century Communities from a "buy" rating to a "strong-buy" rating in a research note on Sunday, December 31st. One investment analyst has rated the stock with a hold rating, six have issued a buy rating and one has assigned a strong buy rating to the company's stock. Century Communities currently has a consensus rating of "Buy" and a consensus target price of $35.17.
ILLEGAL ACTIVITY NOTICE: This article was first published by Chaffey Breeze and is the sole property of of Chaffey Breeze. If you are viewing this article on another domain, it was illegally stolen and reposted in violation of international copyright laws. The original version of this article can be accessed at https://www.chaffeybreeze.com/2018/02/15/century-communities-ccs-posts-quarterly-earnings-results-beats-estimates-by-0-40-eps.html.
Century Communities Company Profile
Century Communities, Inc engages in homebuilding business in Atlanta, Central Texas, Colorado, Houston, Nevada, and Utah. It is involved in the development, design, construction, marketing, and sale of single-family attached and detached homes, as well as entitlement and development of land. The company sells homes through its sales representatives, as well as through independent real estate brokers.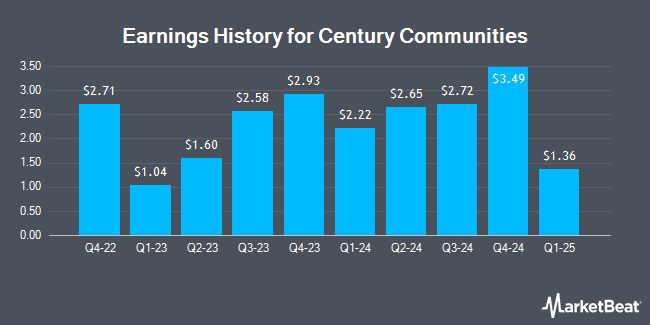 Receive News & Ratings for Century Communities Daily - Enter your email address below to receive a concise daily summary of the latest news and analysts' ratings for Century Communities and related companies with MarketBeat.com's FREE daily email newsletter.