Electrovaya Inc. (TSE:EFL) – Investment analysts at B. Riley reduced their Q1 2018 EPS estimates for shares of Electrovaya in a note issued to investors on Tuesday. B. Riley analyst C. Driscoll now anticipates that the company will earn ($0.08) per share for the quarter, down from their prior estimate of ($0.06). B. Riley has a "Neutral" rating on the stock. B. Riley also issued estimates for Electrovaya's Q2 2018 earnings at ($0.08) EPS, Q3 2018 earnings at ($0.08) EPS, Q4 2018 earnings at ($0.06) EPS and FY2018 earnings at ($0.30) EPS.
Electrovaya (TSE EFL) traded up C$0.01 during trading hours on Thursday, reaching C$0.57. 19,980 shares of the company's stock were exchanged, compared to its average volume of 138,317. The firm has a market capitalization of $53.58, a PE ratio of -1.90 and a beta of 2.22. Electrovaya has a 1-year low of C$0.53 and a 1-year high of C$3.05.
In related news, Director Gupta Bejoy Das purchased 50,000 shares of Electrovaya stock in a transaction on Monday, October 16th. The stock was acquired at an average cost of C$0.85 per share, for a total transaction of C$42,500.00. Insiders acquired 110,000 shares of company stock valued at $92,450 over the last 90 days.
ILLEGAL ACTIVITY WARNING: "Q1 2018 EPS Estimates for Electrovaya Inc. Decreased by B. Riley (EFL)" was originally reported by Chaffey Breeze and is the property of of Chaffey Breeze. If you are accessing this news story on another website, it was illegally copied and republished in violation of US & international copyright & trademark law. The legal version of this news story can be read at https://www.chaffeybreeze.com/2018/01/05/q1-2018-eps-estimates-for-electrovaya-inc-decreased-by-b-riley-efl.html.
About Electrovaya
Electrovaya Inc is a Canada-based company, which designs, develops and manufactures Lithium Ion SuperPolymer batteries, battery systems, and battery related products for energy storage, clean electric transportation and other specialized applications. The Company develops, manufactures and markets power technology products.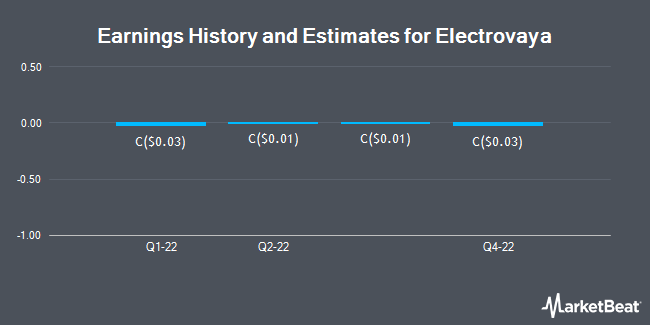 Receive News & Ratings for Electrovaya Daily - Enter your email address below to receive a concise daily summary of the latest news and analysts' ratings for Electrovaya and related companies with MarketBeat.com's FREE daily email newsletter.