Insignia Systems, Inc. (NASDAQ:ISIG) major shareholder Air T. Inc acquired 10,000 shares of the company's stock in a transaction on Saturday, December 29th. The shares were purchased at an average cost of $1.19 per share, for a total transaction of $11,900.00. Following the acquisition, the insider now owns 11,788 shares of the company's stock, valued at approximately $14,027.72. The transaction was disclosed in a document filed with the SEC, which can be accessed through this hyperlink. Major shareholders that own more than 10% of a company's shares are required to disclose their transactions with the SEC.
Shares of Insignia Systems, Inc. (NASDAQ:ISIG) traded down $0.03 during mid-day trading on Friday, hitting $1.23. The company's stock had a trading volume of 91,500 shares, compared to its average volume of 89,000. The stock has a market capitalization of $15.01, a price-to-earnings ratio of -5.59 and a beta of 0.86. Insignia Systems, Inc. has a 12 month low of $0.90 and a 12 month high of $2.59.
COPYRIGHT VIOLATION NOTICE: This report was posted by Chaffey Breeze and is the sole property of of Chaffey Breeze. If you are viewing this report on another site, it was illegally stolen and republished in violation of U.S. & international copyright laws. The original version of this report can be read at https://www.chaffeybreeze.com/2018/01/05/insider-buying-insignia-systems-inc-isig-major-shareholder-purchases-11900-00-in-stock.html.
About Insignia Systems
Insignia Systems, Inc (Insignia) is a developer and marketer of in-store products, programs and services for consumer goods manufacturers and retail partners drive sales at the point of purchase. The Company's products include the Insignia Point-of-Purchase Services (POPS) in-store marketing program, thermal sign card supplies for the Company's Impulse Retail System, laser printable cardstock and label supplies, and The Like Machine.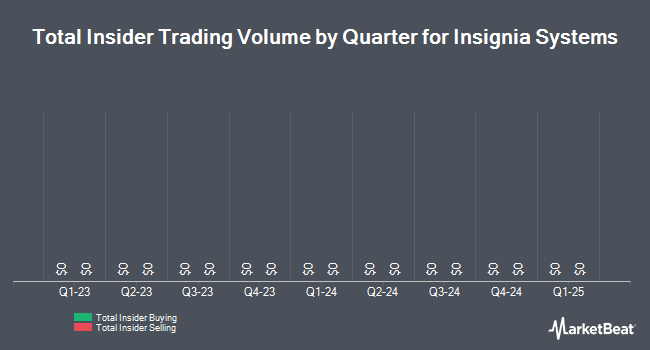 Receive News & Ratings for Insignia Systems Daily - Enter your email address below to receive a concise daily summary of the latest news and analysts' ratings for Insignia Systems and related companies with MarketBeat.com's FREE daily email newsletter.