Zacks Investment Research upgraded shares of Akzo Nobel (OTCMKTS:AKZOY) from a hold rating to a buy rating in a research report sent to investors on Thursday. They currently have $33.00 price target on the basic materials company's stock.
According to Zacks, "AkzoNobel is a leading global paints and coatings company and a major producer of specialty chemicals. Their portfolio includes brands such as Dulux, Sikkens, International, Interpon and Eka. "
Several other analysts also recently issued reports on the company. ValuEngine raised Akzo Nobel from a hold rating to a buy rating in a research note on Sunday, December 31st. Societe Generale downgraded Akzo Nobel from a buy rating to a hold rating in a research note on Monday, September 25th. Five investment analysts have rated the stock with a hold rating and three have given a buy rating to the stock. The stock presently has a consensus rating of Hold and a consensus price target of $33.00.
Shares of Akzo Nobel (
OTCMKTS AKZOY
) traded up $0.53 during mid-day trading on Thursday, reaching $30.17. The company's stock had a trading volume of 240,539 shares, compared to its average volume of 52,466. The company has a debt-to-equity ratio of 0.39, a quick ratio of 1.01 and a current ratio of 1.40. Akzo Nobel has a 12 month low of $20.61 and a 12 month high of $31.64. The firm has a market cap of $22,262.24, a price-to-earnings ratio of 23.20, a P/E/G ratio of 1.81 and a beta of 1.11.
Akzo Nobel (OTCMKTS:AKZOY) last released its quarterly earnings results on Wednesday, October 18th. The basic materials company reported $0.42 earnings per share (EPS) for the quarter, missing the consensus estimate of $0.48 by ($0.06). The company had revenue of $4.26 billion for the quarter. Akzo Nobel had a return on equity of 14.88% and a net margin of 6.13%. sell-side analysts forecast that Akzo Nobel will post 1.63 earnings per share for the current fiscal year.
COPYRIGHT VIOLATION NOTICE: This piece of content was originally posted by Chaffey Breeze and is the sole property of of Chaffey Breeze. If you are reading this piece of content on another domain, it was stolen and republished in violation of United States & international trademark & copyright law. The legal version of this piece of content can be read at https://www.chaffeybreeze.com/2018/01/05/akzo-nobel-akzoy-upgraded-to-buy-by-zacks-investment-research.html.
Akzo Nobel Company Profile
Akzo Nobel N.V. is a paints and coatings company, and a producer of specialty chemicals. The Company's segments include Decorative Paints, Performance Coatings, Paints and Coatings, and Specialty Chemicals. The Decorative Paints segment's business operations include Decorative Paints Europe, Middle East and Africa; Decorative Paints Asia, and Decorative Paints Latin America.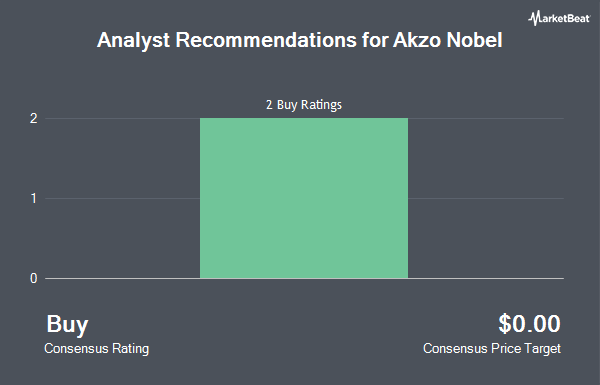 Receive News & Ratings for Akzo Nobel Daily - Enter your email address below to receive a concise daily summary of the latest news and analysts' ratings for Akzo Nobel and related companies with MarketBeat.com's FREE daily email newsletter.