Bilfinger (ETR:GBF) has been given a €38.00 ($45.24) price objective by analysts at Kepler Capital Markets in a research report issued to clients and investors on Thursday. The brokerage presently has a "neutral" rating on the stock. Kepler Capital Markets' target price would suggest a potential downside of 5.85% from the company's current price.
A number of other research firms have also recently commented on GBF. S&P Global set a €34.00 ($40.48) target price on shares of Bilfinger and gave the stock a "sell" rating in a research note on Thursday, November 16th. DZ Bank reiterated a "buy" rating on shares of Bilfinger in a research note on Wednesday, November 15th. Commerzbank set a €50.00 ($59.52) target price on shares of Bilfinger and gave the stock a "buy" rating in a research note on Tuesday, November 14th. Finally, Nord/LB set a €35.00 ($41.67) target price on shares of Bilfinger and gave the stock a "neutral" rating in a research note on Friday, November 24th. Two research analysts have rated the stock with a sell rating, three have issued a hold rating and two have assigned a buy rating to the stock. Bilfinger has an average rating of "Hold" and an average target price of €38.33 ($45.63).
Shares of Bilfinger (ETR:GBF) opened at €40.36 ($48.05) on Thursday. Bilfinger has a 12 month low of €32.89 ($39.15) and a 12 month high of €40.72 ($48.48).
COPYRIGHT VIOLATION WARNING: "Kepler Capital Markets Reiterates "€38.00" Price Target for Bilfinger (GBF)" was reported by Chaffey Breeze and is the sole property of of Chaffey Breeze. If you are viewing this piece of content on another publication, it was illegally stolen and reposted in violation of US & international copyright law. The correct version of this piece of content can be viewed at https://www.chaffeybreeze.com/2018/01/04/kepler-capital-markets-reiterates-38-00-price-target-for-bilfinger-gbf.html.
About Bilfinger
Bilfinger SE provides customized engineering and services to customers in the process industry. The company operates through Engineering & Technologies; and Maintenance, Modifications, & Operations segments. The Engineering & Technologies segment provides consulting, engineering, manufacturing, and assembly services for industrial facilities.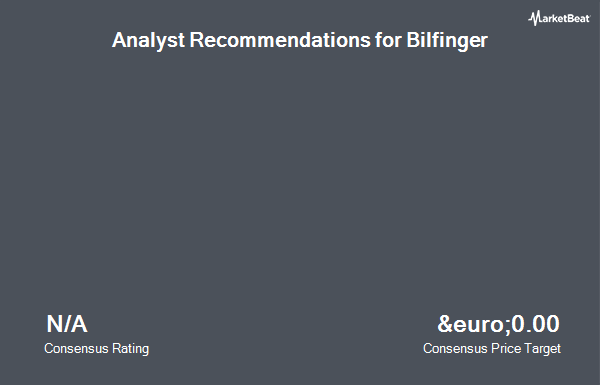 Receive News & Ratings for Bilfinger Daily - Enter your email address below to receive a concise daily summary of the latest news and analysts' ratings for Bilfinger and related companies with MarketBeat.com's FREE daily email newsletter.