Numis Securities restated their hold rating on shares of HSS Hire Group (LON:HSS) in a research report sent to investors on Friday morning. They currently have a GBX 30 ($0.40) target price on the stock.
A number of other equities research analysts have also issued reports on HSS. Liberum Capital reissued a sell rating and set a GBX 30 ($0.40) price target on shares of HSS Hire Group in a research note on Thursday. J P Morgan Chase & Co raised HSS Hire Group to a neutral rating and decreased their price target for the stock from GBX 44 ($0.59) to GBX 35 ($0.47) in a research note on Thursday, November 30th. Peel Hunt decreased their target price on HSS Hire Group from GBX 65 ($0.87) to GBX 40 ($0.54) and set a hold rating for the company in a research report on Wednesday, August 30th. Finally, Beaufort Securities lowered HSS Hire Group to a hold rating in a research report on Thursday, August 31st. One equities research analyst has rated the stock with a sell rating, three have given a hold rating and one has assigned a buy rating to the company. The stock presently has an average rating of Hold and an average price target of GBX 50 ($0.67).
HSS Hire Group (LON:HSS) opened at GBX 31.05 ($0.42) on Friday. HSS Hire Group has a 1-year low of GBX 22 ($0.30) and a 1-year high of GBX 88 ($1.18).
TRADEMARK VIOLATION NOTICE: This story was first reported by Chaffey Breeze and is the property of of Chaffey Breeze. If you are viewing this story on another domain, it was illegally copied and reposted in violation of US and international trademark and copyright legislation. The correct version of this story can be accessed at https://www.chaffeybreeze.com/2017/12/11/hss-hire-group-hss-earns-hold-rating-from-numis-securities.html.
HSS Hire Group Company Profile
HSS Hire Group plc provides tool and equipment hire and related services in the United Kingdom and Ireland through a network of over 300 locations across the nation. The Company's business focuses on supplying equipment and services to the fit-out, maintain and operate sectors of the market, with its businesses also supplying construction contractors.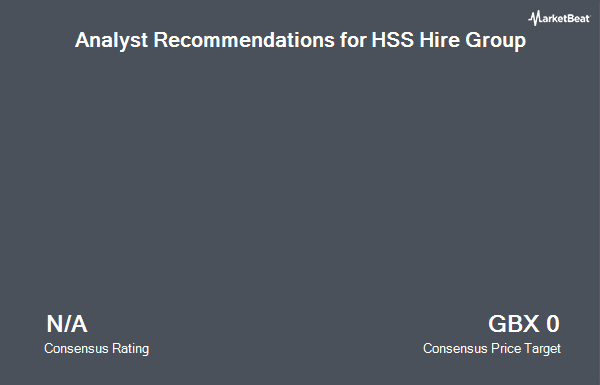 Receive News & Ratings for HSS Hire Group PLC Daily - Enter your email address below to receive a concise daily summary of the latest news and analysts' ratings for HSS Hire Group PLC and related companies with MarketBeat.com's FREE daily email newsletter.