Cameco (TSE:CCO) (NYSE:CCJ) had its price objective lifted by investment analysts at TD Securities from C$15.00 to C$18.00 in a note issued to investors on Tuesday. The brokerage presently has a "buy" rating on the stock. TD Securities' price objective indicates a potential upside of 32.45% from the company's previous close.
A number of other research firms have also recently commented on CCO. Scotiabank lowered their target price on shares of Cameco from C$9.50 to C$9.00 and set an "underperform" rating for the company in a research note on Thursday, November 9th. Raymond James Financial cut their target price on shares of Cameco from C$15.00 to C$14.00 in a report on Monday, October 23rd. Royal Bank Of Canada cut their price target on shares of Cameco from C$17.00 to C$16.00 and set an "outperform" rating for the company in a report on Friday, October 20th. Finally, BMO Capital Markets lowered their target price on shares of Cameco from C$17.00 to C$15.00 in a research note on Monday, October 30th. One analyst has rated the stock with a sell rating, one has issued a hold rating and three have issued a buy rating to the stock. The stock currently has a consensus rating of "Hold" and a consensus price target of C$14.14.
Shares of Cameco (TSE CCO) traded up C$1.55 during trading on Tuesday, reaching C$13.59. 4,456,066 shares of the company's stock traded hands, compared to its average volume of 1,400,965. Cameco has a one year low of C$9.90 and a one year high of C$17.65.
In other Cameco news, Director James Kitchener Gowans purchased 8,000 shares of the business's stock in a transaction on Wednesday, November 22nd. The shares were bought at an average cost of C$12.52 per share, for a total transaction of C$100,160.00.
ILLEGAL ACTIVITY WARNING: "Cameco (CCO) Given New C$18.00 Price Target at TD Securities" was first posted by Chaffey Breeze and is the property of of Chaffey Breeze. If you are viewing this piece of content on another domain, it was illegally copied and republished in violation of US & international copyright laws. The original version of this piece of content can be viewed at https://www.chaffeybreeze.com/2017/12/05/cameco-cco-given-new-c18-00-price-target-at-td-securities.html.
Cameco Company Profile
Cameco Corporation (Cameco) is a uranium producer. The Company is primarily engaged in the exploration for and the development, mining, refining, conversion, fabrication and trading of uranium for sale as fuel for generating electricity in nuclear power reactors in Canada and other countries. The Company operates through three segments: uranium, fuel services and NUKEM.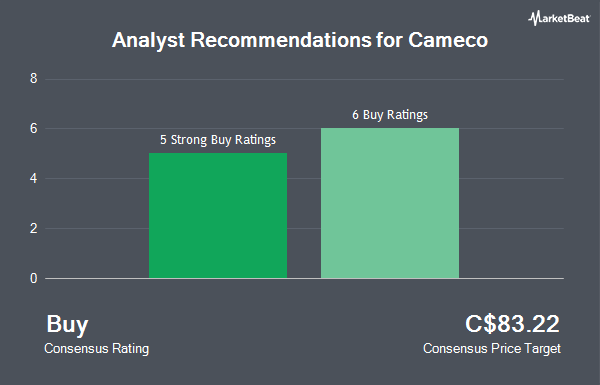 Receive News & Ratings for Cameco Co. Daily - Enter your email address below to receive a concise daily summary of the latest news and analysts' ratings for Cameco Co. and related companies with MarketBeat.com's FREE daily email newsletter.