SRC Energy Inc (NYSEAMERICAN:SRCI) was downgraded by investment analysts at BidaskClub from a "hold" rating to a "sell" rating in a report released on Tuesday.
Separately, Imperial Capital restated an "outperform" rating on shares of SRC Energy in a research report on Thursday, September 28th. One analyst has rated the stock with a sell rating, four have given a hold rating and eight have assigned a buy rating to the stock. SRC Energy currently has an average rating of "Buy" and a consensus target price of $10.80.
SRC Energy (NYSEAMERICAN SRCI) opened at $8.56 on Tuesday. SRC Energy has a 1 year low of $6.19 and a 1 year high of $10.38.
WARNING: This piece of content was originally posted by Chaffey Breeze and is the sole property of of Chaffey Breeze. If you are reading this piece of content on another domain, it was copied illegally and reposted in violation of U.S. and international trademark and copyright legislation. The legal version of this piece of content can be accessed at https://www.chaffeybreeze.com/2017/11/14/src-energy-inc-srci-cut-to-sell-at-bidaskclub.html.
An institutional investor recently bought a new position in SRC Energy stock. Private Advisor Group LLC acquired a new stake in SRC Energy Inc (NYSEAMERICAN:SRCI) in the third quarter, according to its most recent 13F filing with the Securities & Exchange Commission. The firm acquired 17,505 shares of the oil and natural gas company's stock, valued at approximately $163,000.
SRC Energy Company Profile
SRC Energy Inc, formerly Synergy Resources Corporation, is an independent oil and natural gas company. The Company is engaged in the acquisition, development and production of crude oil and natural gas in and around the Denver-Julesburg Basin (D-J Basin) of Colorado. The D-J Basin generally extends from the Denver metropolitan area throughout northeast Colorado into Wyoming, Nebraska, and Kansas.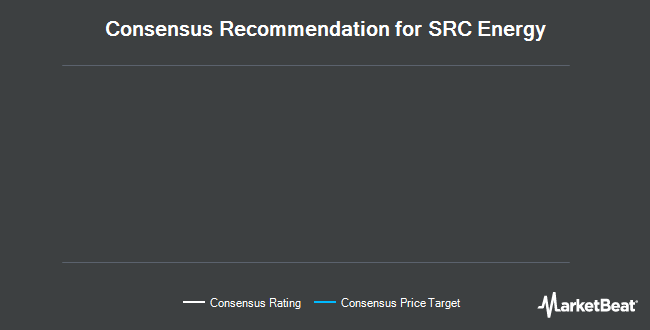 Receive News & Ratings for SRC Energy Inc Daily - Enter your email address below to receive a concise daily summary of the latest news and analysts' ratings for SRC Energy Inc and related companies with MarketBeat.com's FREE daily email newsletter.