Cae Inc (TSE:CAE) (NYSE:CAE) had its price target lowered by Raymond James Financial, Inc. from C$22.00 to C$21.00 in a report released on Monday. Raymond James Financial, Inc. currently has a market perform rating on the stock.
Other equities research analysts have also recently issued reports about the company. Desjardins increased their price objective on Cae from C$25.00 to C$27.00 in a research report on Monday. CIBC increased their price objective on Cae from C$23.00 to C$24.00 in a research report on Thursday, November 2nd. TD Securities increased their price objective on Cae from C$22.00 to C$23.00 and gave the company a hold rating in a research report on Friday, August 11th. Scotiabank increased their target price on Cae from C$23.00 to C$24.00 and gave the company an outperform rating in a report on Monday. Finally, BMO Capital Markets raised Cae from a market perform rating to an outperform rating and set a C$23.00 target price on the stock in a report on Wednesday, August 30th. Three equities research analysts have rated the stock with a hold rating and three have issued a buy rating to the company's stock. The stock has an average rating of Buy and a consensus price target of C$23.75.
Cae (TSE CAE) traded up C$0.24 during trading on Monday, hitting C$22.37. The company had a trading volume of 484,356 shares, compared to its average volume of 517,340. Cae has a 12 month low of C$18.35 and a 12 month high of C$23.39.
COPYRIGHT VIOLATION WARNING: This report was originally published by Chaffey Breeze and is the property of of Chaffey Breeze. If you are reading this report on another site, it was illegally copied and republished in violation of international copyright and trademark legislation. The correct version of this report can be read at https://www.chaffeybreeze.com/2017/11/14/cae-inc-cae-price-target-lowered-to-c21-00-at-raymond-james-financial-inc.html.
In related news, insider Nick Leontidis acquired 4,000 shares of the firm's stock in a transaction dated Friday, September 29th. The shares were purchased at an average price of C$21.83 per share, with a total value of C$87,320.00.
About Cae
CAE Inc provides training for the civil aviation, defense and security, and healthcare markets. The Company designs and integrates training solutions. It operates through three segments: Civil Aviation Training Solutions, Defense and Security, and Healthcare. The Company provides training solutions for flight, cabin, maintenance and ground personnel in commercial, business and helicopter aviation, a range of flight simulation training devices, as well as ab initio pilot training and crew sourcing services.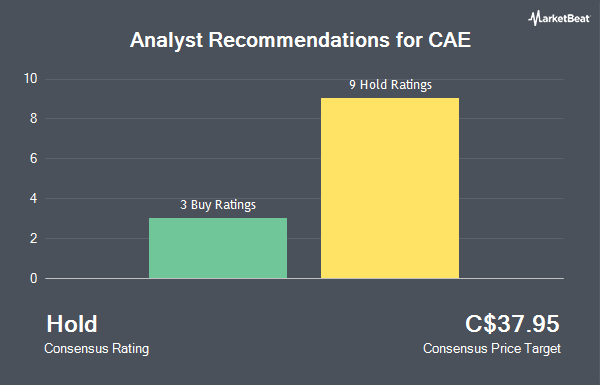 Receive News & Ratings for Cae Inc Daily - Enter your email address below to receive a concise daily summary of the latest news and analysts' ratings for Cae Inc and related companies with MarketBeat.com's FREE daily email newsletter.