Shares of Hiscox Ltd (LON:HSX) have been assigned a consensus rating of "Hold" from the twelve ratings firms that are covering the firm, Marketbeat Ratings reports. Three investment analysts have rated the stock with a sell rating, six have given a hold rating and three have assigned a buy rating to the company. The average 12-month price objective among brokerages that have covered the stock in the last year is GBX 1,230.50 ($16.18).
Several equities analysts have issued reports on the stock. Peel Hunt boosted their price objective on shares of Hiscox from GBX 840 ($11.05) to GBX 980 ($12.89) and gave the company a "reduce" rating in a research note on Tuesday, July 18th. Stockdale Securities reissued a "neutral" rating on shares of Hiscox in a research note on Wednesday, August 2nd. Morgan Stanley started coverage on shares of Hiscox in a research report on Tuesday, July 25th. They set an "equal weight" rating and a GBX 1,380 ($18.15) target price on the stock. Citigroup Inc. restated a "neutral" rating and set a GBX 1,350 ($17.76) target price on shares of Hiscox in a research report on Thursday, October 12th. Finally, J P Morgan Chase & Co restated an "overweight" rating and set a GBX 1,375 ($18.08) target price on shares of Hiscox in a research report on Wednesday, November 8th.
Shares of Hiscox (HSX) traded up GBX 4 ($0.05) on Monday, reaching GBX 1,454 ($19.12). 472,874 shares of the company's stock traded hands, compared to its average volume of 524,362. Hiscox has a 12 month low of GBX 978 ($12.86) and a 12 month high of GBX 1,465 ($19.27).
In other Hiscox news, insider Colin D. Keogh acquired 1,057 shares of the firm's stock in a transaction that occurred on Friday, September 29th. The shares were acquired at an average cost of GBX 1,280 ($16.84) per share, for a total transaction of £13,529.60 ($17,795.08).
TRADEMARK VIOLATION WARNING: "Hiscox Ltd (HSX) Receives Consensus Recommendation of "Hold" from Analysts" was first reported by Chaffey Breeze and is owned by of Chaffey Breeze. If you are viewing this report on another website, it was copied illegally and republished in violation of United States and international copyright law. The correct version of this report can be viewed at https://www.chaffeybreeze.com/2017/11/13/hiscox-ltd-hsx-receives-consensus-recommendation-of-hold-from-analysts.html.
About Hiscox
Hiscox Limited is a Bermuda-based insurer company. The Company is a holding company for subsidiaries involved in the business of insurance and reinsurance in Bermuda, the United States, the United Kingdom, Guernsey, Europe and Asia. It operates through four segments: Hiscox Retail, Hiscox London Market, Hiscox Re and Corporate Centre.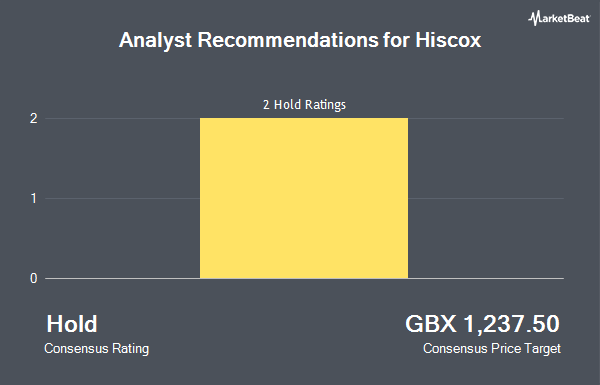 Receive News & Ratings for Hiscox Ltd Daily - Enter your email address below to receive a concise daily summary of the latest news and analysts' ratings for Hiscox Ltd and related companies with MarketBeat.com's FREE daily email newsletter.