Royal Bank of Canada decreased its stake in shares of VanEck Vectors Coal ETF (NYSEARCA:KOL) by 5.0% during the second quarter, according to the company in its most recent Form 13F filing with the Securities & Exchange Commission. The firm owned 41,745 shares of the exchange traded fund's stock after selling 2,200 shares during the period. Royal Bank of Canada's holdings in VanEck Vectors Coal ETF were worth $553,000 at the end of the most recent reporting period.
ILLEGAL ACTIVITY NOTICE: "VanEck Vectors Coal ETF (KOL) Shares Sold by Royal Bank of Canada" was reported by Chaffey Breeze and is owned by of Chaffey Breeze. If you are reading this article on another website, it was illegally copied and republished in violation of international copyright and trademark laws. The original version of this article can be viewed at https://www.chaffeybreeze.com/2017/11/12/vaneck-vectors-coal-etf-kol-shares-sold-by-royal-bank-of-canada.html.
VanEck Vectors Coal ETF (NYSEARCA KOL) opened at $14.98 on Friday. VanEck Vectors Coal ETF has a 52-week low of $12.03 and a 52-week high of $15.44.
VanEck Vectors Coal ETF Company Profile
Market Vectors-Coal ETF (the Fund) seeks to replicate as closely as possible the price and yield return performance of the Stowe Coal Index (COAL or the Index) by investing in a portfolio of securities that generally replicates COAL. COAL, calculated and maintained by Standard & Poor's Custom Indices on behalf of Stowe Global Indexes LLC, is a rules-based, modified capitalization-weighted, float-adjusted index consisting of publicly traded companies worldwide that are engaged in the coal industry.
Want to see what other hedge funds are holding KOL? Visit HoldingsChannel.com to get the latest 13F filings and insider trades for VanEck Vectors Coal ETF (NYSEARCA:KOL).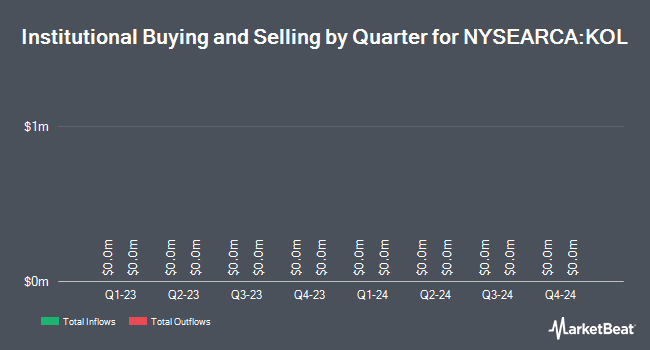 Receive News & Ratings for VanEck Vectors Coal ETF Daily - Enter your email address below to receive a concise daily summary of the latest news and analysts' ratings for VanEck Vectors Coal ETF and related companies with MarketBeat.com's FREE daily email newsletter.