Shares of Enerflex Ltd (TSE:EFX) have received an average recommendation of "Buy" from the eight brokerages that are currently covering the company, MarketBeat Ratings reports. Four research analysts have rated the stock with a buy recommendation and one has issued a strong buy recommendation on the company. The average 1 year price objective among analysts that have updated their coverage on the stock in the last year is C$23.06.
A number of equities research analysts have recently issued reports on EFX shares. BMO Capital Markets cut their price target on shares of Enerflex from C$23.00 to C$21.00 in a report on Monday, August 14th. CIBC upped their price objective on shares of Enerflex from C$24.50 to C$25.00 in a research note on Wednesday, June 21st. Industrial Alliance Securities boosted their target price on shares of Enerflex from C$23.00 to C$23.50 and gave the stock a "strong-buy" rating in a research report on Wednesday, June 21st. Finally, Raymond James Financial, Inc. boosted their target price on shares of Enerflex from C$21.50 to C$22.00 and gave the stock an "outperform" rating in a research report on Wednesday, June 21st.
In other Enerflex news, Director Kevin Jerome Reinhart bought 2,000 shares of Enerflex stock in a transaction dated Tuesday, August 22nd. The shares were bought at an average price of C$15.65 per share, with a total value of C$31,300.00.
WARNING: This article was published by Chaffey Breeze and is the property of of Chaffey Breeze. If you are accessing this article on another domain, it was illegally stolen and republished in violation of United States & international copyright legislation. The original version of this article can be read at https://www.chaffeybreeze.com/2017/09/26/enerflex-ltd-efx-receives-c23-06-consensus-pt-from-analysts.html.
The business also recently disclosed a quarterly dividend, which will be paid on Thursday, October 12th. Shareholders of record on Thursday, August 24th will be issued a dividend of $0.085 per share. The ex-dividend date of this dividend is Tuesday, August 22nd. This represents a $0.34 dividend on an annualized basis and a yield of 1.82%. This is a positive change from Enerflex's previous quarterly dividend of $0.06.
Enerflex Company Profile
Enerflex Ltd. is a Canada-based supplier of natural gas compression, oil and gas processing, refrigeration systems and electric power equipment. The Company's in‐house resources provide the capability to engineer, design, manufacture, construct, commission and service hydrocarbon handling systems. The Company operates through three segments: Canada, USA and Rest of World.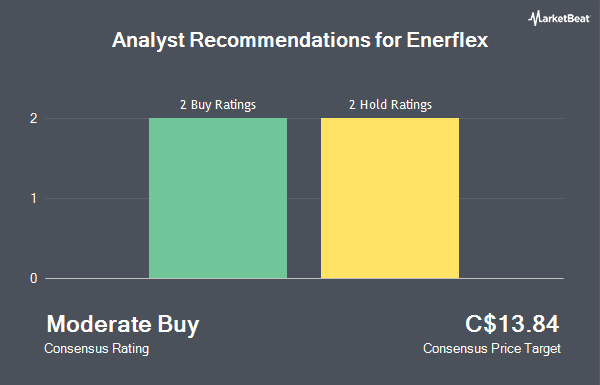 Receive News & Ratings for Enerflex Ltd Daily - Enter your email address below to receive a concise daily summary of the latest news and analysts' ratings for Enerflex Ltd and related companies with MarketBeat.com's FREE daily email newsletter.