Enbridge Inc (TSE:ENB) (NYSE:ENB) Director Albert Monaco purchased 9,356 shares of the stock in a transaction that occurred on Friday, September 15th. The stock was bought at an average cost of C$50.02 per share, for a total transaction of C$467,987.12.
Shares of Enbridge Inc (TSE ENB) opened at 50.34 on Tuesday. Enbridge Inc has a one year low of $48.98 and a one year high of $59.18. The company has a market cap of $82.85 billion and a PE ratio of 32.50. The firm's 50-day moving average is $50.44 and its 200-day moving average is $53.03.
The business also recently announced a quarterly dividend, which was paid on Friday, September 1st. Investors of record on Tuesday, August 15th were issued a $0.61 dividend. This represents a $2.44 annualized dividend and a yield of 4.85%. The ex-dividend date of this dividend was Friday, August 11th.
ILLEGAL ACTIVITY NOTICE: "Enbridge Inc (ENB) Director Albert Monaco Acquires 9,356 Shares" was reported by Chaffey Breeze and is owned by of Chaffey Breeze. If you are reading this article on another website, it was illegally copied and republished in violation of international copyright and trademark laws. The original version of this article can be viewed at https://www.chaffeybreeze.com/2017/09/19/enbridge-inc-enb-director-albert-monaco-acquires-9356-shares.html.
A number of equities research analysts recently commented on the stock. TD Securities lifted their price target on shares of Enbridge from C$62.00 to C$64.00 and gave the stock a "buy" rating in a report on Tuesday, August 8th. Royal Bank Of Canada lowered their target price on shares of Enbridge from C$67.00 to C$64.00 and set an "outperform" rating on the stock in a report on Monday, June 12th. Finally, GMP Securities lowered their target price on shares of Enbridge from C$64.00 to C$61.25 in a report on Friday, June 16th. Two investment analysts have rated the stock with a hold rating and four have assigned a buy rating to the company. The stock presently has an average rating of "Buy" and a consensus target price of C$64.18.
Enbridge Company Profile
Enbridge Inc is a Canada-based energy transportation and distribution company. The Company is engaged in delivering energy. It operates through five segments: Liquids Pipelines, Gas Distribution, Gas Pipelines and Processing, Green Power and Transmission, and Energy Services. Liquids Pipelines consists of common carrier and contract crude oil, natural gas liquids (NGL), and refined products pipelines and terminals, including Canadian Mainline, Lakehead Pipeline System, Mid-Continent and Gulf Coast and Regional Oil Sands System.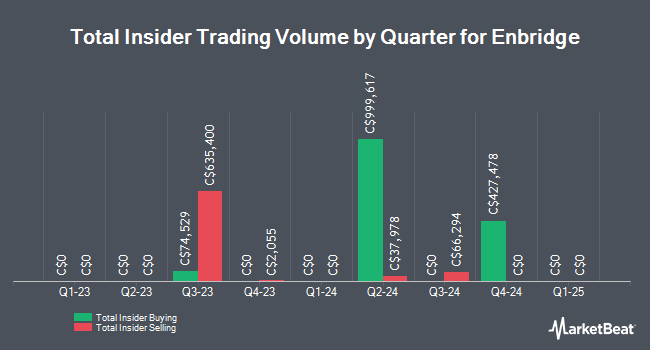 Receive News & Ratings for Enbridge Inc Daily - Enter your email address below to receive a concise daily summary of the latest news and analysts' ratings for Enbridge Inc and related companies with MarketBeat.com's FREE daily email newsletter.