Iwg Plc (LON:IWG) has been assigned an average rating of "Hold" from the six research firms that are covering the stock, Marketbeat reports. One investment analyst has rated the stock with a sell recommendation, two have assigned a hold recommendation and three have given a buy recommendation to the company. The average 12 month price objective among brokers that have updated their coverage on the stock in the last year is GBX 362.50 ($4.89).
Several equities research analysts have weighed in on IWG shares. Numis Securities Ltd reaffirmed a "hold" rating and issued a GBX 335 ($4.52) target price on shares of Iwg Plc in a research report on Wednesday, August 9th. Peel Hunt lowered Iwg Plc to a "hold" rating and dropped their target price for the stock from GBX 399 ($5.38) to GBX 335 ($4.52) in a research report on Wednesday, August 16th. Berenberg Bank reaffirmed a "buy" rating and issued a GBX 430 ($5.80) target price on shares of Iwg Plc in a research report on Wednesday, August 9th. Finally, Credit Suisse Group reaffirmed an "outperform" rating on shares of Iwg Plc in a research report on Friday, July 21st.
COPYRIGHT VIOLATION WARNING: "Analysts Set Iwg Plc (IWG) PT at $362.50" was originally reported by Chaffey Breeze and is the sole property of of Chaffey Breeze. If you are accessing this piece on another publication, it was copied illegally and republished in violation of U.S. & international trademark & copyright legislation. The original version of this piece can be read at https://www.chaffeybreeze.com/2017/09/18/analysts-set-iwg-plc-iwg-pt-at-362-50.html.
Shares of Iwg Plc (LON:IWG) traded down 0.34% during trading on Friday, reaching GBX 291.50. 1,309,686 shares of the company's stock traded hands. Iwg Plc has a 1-year low of GBX 223.50 and a 1-year high of GBX 392.00. The company's market capitalization is GBX 2.68 billion. The company has a 50 day moving average of GBX 304.07 and a 200-day moving average of GBX 319.55.
The firm also recently declared a dividend, which will be paid on Friday, October 6th. Stockholders of record on Thursday, September 7th will be issued a dividend of GBX 1.75 ($0.02) per share. This represents a dividend yield of 0.59%. The ex-dividend date is Thursday, September 7th.
About Iwg Plc
IWG Plc is a Jersey-based workspace company. The Company operates under the Regus, Regus Express, Spaces, Signature, Kora and Open Office brands and provides a global network of places to work for all kinds of businesses from home-based workers to corporations. The Company focuses on both single location and integrated national networks and also provides sales and management services.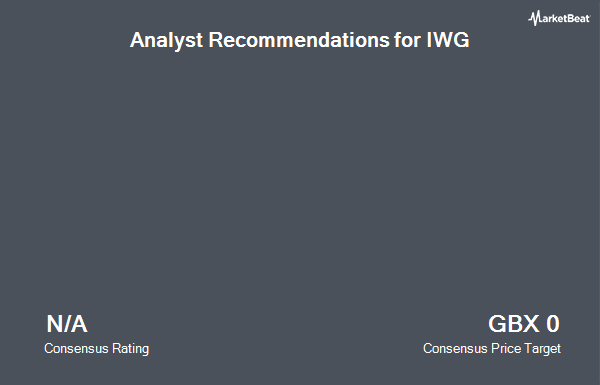 Receive News & Ratings for Iwg Plc Daily - Enter your email address below to receive a concise daily summary of the latest news and analysts' ratings for Iwg Plc and related companies with MarketBeat.com's FREE daily email newsletter.