State Street Corp increased its position in Select Income REIT (NASDAQ:SIR) by 7.6% during the fourth quarter, according to its most recent filing with the SEC. The institutional investor owned 1,395,028 shares of the real estate investment trust's stock after buying an additional 98,178 shares during the period. State Street Corp owned 1.56% of Select Income REIT worth $35,155,000 as of its most recent SEC filing.
Several other large investors have also added to or reduced their stakes in SIR. National Planning Corp raised its stake in Select Income REIT by 4.8% in the fourth quarter. National Planning Corp now owns 16,328 shares of the real estate investment trust's stock worth $408,000 after buying an additional 745 shares in the last quarter. Russell Investments Group Ltd. acquired a new stake in Select Income REIT during the fourth quarter worth approximately $2,235,000. Finally, Cornercap Investment Counsel Inc. purchased a new stake in shares of Select Income REIT during the fourth quarter worth about $451,000. 46.52% of the stock is currently owned by institutional investors.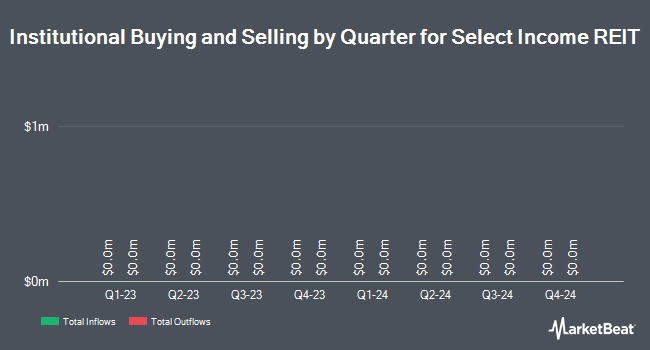 Select Income REIT (NASDAQ:SIR) traded up 0.46% on Friday, hitting $26.38. The company's stock had a trading volume of 353,709 shares. The firm has a 50 day moving average of $25.68 and a 200-day moving average of $25.27. Select Income REIT has a 12 month low of $22.51 and a 12 month high of $27.97. The stock has a market cap of $2.36 billion, a PE ratio of 20.29 and a beta of 0.75.
Select Income REIT (NASDAQ:SIR) last posted its quarterly earnings data on Thursday, February 16th. The real estate investment trust reported $0.71 EPS for the quarter, hitting the consensus estimate of $0.71. The firm earned $114.80 million during the quarter, compared to analyst estimates of $116.49 million. Select Income REIT had a return on equity of 4.91% and a net margin of 22.29%. Select Income REIT's revenue was up .0% on a year-over-year basis. During the same period in the prior year, the business posted $0.76 EPS. On average, analysts expect that Select Income REIT will post $1.39 earnings per share for the current fiscal year.
The business also recently disclosed a quarterly dividend, which will be paid on Thursday, May 18th. Shareholders of record on Friday, April 21st will be issued a dividend of $0.51 per share. This represents a $2.04 annualized dividend and a dividend yield of 7.77%. The ex-dividend date is Wednesday, April 19th. Select Income REIT's dividend payout ratio (DPR) is presently 177.39%.
ILLEGAL ACTIVITY WARNING: This report was published by Chaffey Breeze and is owned by of Chaffey Breeze. If you are reading this report on another publication, it was illegally copied and republished in violation of United States and international trademark & copyright legislation. The legal version of this report can be viewed at https://www.chaffeybreeze.com/2017/04/21/select-income-reit-sir-shares-bought-by-state-street-corp-updated-updated.html.
Separately, Zacks Investment Research raised Select Income REIT from a "sell" rating to a "hold" rating in a research report on Thursday.
About Select Income REIT
Select Income REIT is a real estate investment trust. The Company is engaged in the ownership of properties that include buildings and leased industrial lands that are primarily net leased to single tenants. As of December 31, 2016, the Company owned 121 properties (362 buildings, leasable land parcels and easements) with approximately 44.8 million rentable square feet.
Receive News & Ratings for Select Income REIT Daily - Enter your email address below to receive a concise daily summary of the latest news and analysts' ratings for Select Income REIT and related companies with MarketBeat.com's FREE daily email newsletter.