Sempra Energy (NYSE:SRE) declared a quarterly dividend on Thursday, February 23rd. Investors of record on Thursday, March 23rd will be paid a dividend of 0.8225 per share on Saturday, April 15th. This represents a $3.29 annualized dividend and a yield of 2.97%. The ex-dividend date of this dividend is Tuesday, March 21st. This is a boost from Sempra Energy's previous quarterly dividend of $0.76.
Sempra Energy (NYSE:SRE) opened at 110.76 on Monday. The company has a market capitalization of $27.75 billion, a P/E ratio of 20.29 and a beta of 0.47. The company's 50-day moving average is $106.60 and its 200 day moving average is $103.86. Sempra Energy has a one year low of $92.95 and a one year high of $114.66.
Sempra Energy (NYSE:SRE) last announced its quarterly earnings data on Tuesday, February 28th. The company reported $1.52 earnings per share (EPS) for the quarter, beating the Zacks' consensus estimate of $1.49 by $0.03. Sempra Energy had a return on equity of 9.41% and a net margin of 13.24%. The business had revenue of $2.87 billion for the quarter, compared to analysts' expectations of $2.84 billion. During the same period in the previous year, the business posted $1.47 EPS. The firm's quarterly revenue was up 6.3% compared to the same quarter last year. Analysts predict that Sempra Energy will post $5.13 EPS for the current year.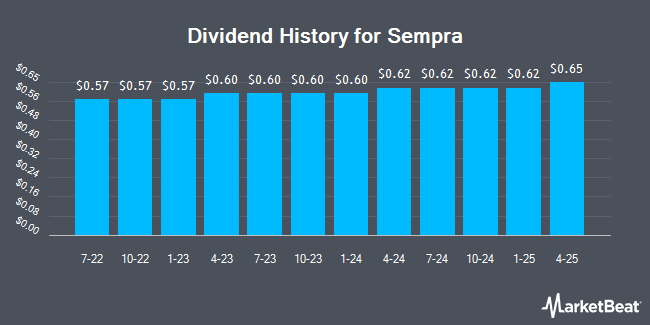 A number of equities research analysts recently issued reports on the company. Zacks Investment Research upgraded Sempra Energy from a "hold" rating to a "buy" rating and set a $113.00 price objective on the stock in a research note on Tuesday, November 29th. Barclays PLC boosted their price objective on Sempra Energy from $108.00 to $113.00 and gave the company an "overweight" rating in a research note on Wednesday, February 8th. Two equities research analysts have rated the stock with a hold rating and three have assigned a buy rating to the stock. The company currently has a consensus rating of "Buy" and an average price target of $113.62.
Your IP Address:
In other news, insider Steven D. Davis sold 2,233 shares of the company's stock in a transaction dated Monday, February 13th. The stock was sold at an average price of $105.00, for a total transaction of $234,465.00. Following the sale, the insider now directly owns 20,567 shares in the company, valued at $2,159,535. The sale was disclosed in a document filed with the SEC, which is available at this link. Also, Chairman Debra L. Reed sold 17,300 shares of the company's stock in a transaction dated Monday, January 23rd. The shares were sold at an average price of $102.34, for a total value of $1,770,482.00. Following the sale, the chairman now owns 127,645 shares in the company, valued at $13,063,189.30. The disclosure for this sale can be found here. Over the last quarter, insiders have sold 53,395 shares of company stock worth $5,608,692. Company insiders own 0.16% of the company's stock.
Sempra Energy Company Profile
Sempra Energy is a holding company. The Company's principal operating units are San Diego Gas & Electric Company (SDG&E) and Southern California Gas Company (SoCalGas); Sempra International, which includes Sempra South American Utilities and Sempra Mexico segments, and Sempra U.S. Gas & Power, which includes Sempra Renewables and Sempra Natural Gas segments.
Receive News & Ratings for Sempra Energy Daily - Enter your email address below to receive a concise daily summary of the latest news and analysts' ratings for Sempra Energy and related companies with MarketBeat.com's FREE daily email newsletter.