ACNB Co. (NASDAQ:ACNB) Director Scott L. Kelley sold 1,500 shares of ACNB stock in a transaction on Wednesday, March 15th. The shares were sold at an average price of $30.96, for a total value of $46,440.00. Following the completion of the transaction, the director now directly owns 14,334 shares of the company's stock, valued at $443,780.64. The sale was disclosed in a legal filing with the SEC, which is available through this link.
Shares of ACNB Co. (NASDAQ:ACNB) traded down 1.13% during trading on Monday, reaching $30.60. The company's stock had a trading volume of 9,527 shares. The stock has a 50-day moving average of $29.76 and a 200-day moving average of $29.08. ACNB Co. has a 52-week low of $21.36 and a 52-week high of $32.85. The stock has a market cap of $185.47 million, a P/E ratio of 16.59 and a beta of 0.26.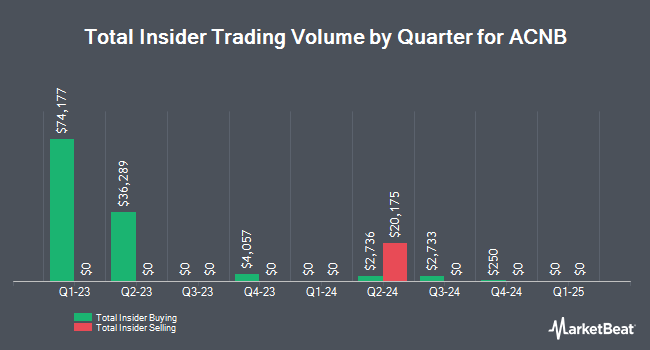 The firm also recently announced a quarterly dividend, which was paid on Wednesday, March 15th. Stockholders of record on Wednesday, March 1st were issued a $0.20 dividend. This represents a $0.80 annualized dividend and a dividend yield of 2.61%. The ex-dividend date was Monday, February 27th. ACNB's dividend payout ratio is presently 43.48%.
Your IP Address:
About ACNB
ACNB Corporation is a financial holding company. The Company's banking operations are conducted through its operating subsidiary, ACNB Bank (the Bank), and offers a range of property and casualty, life and health insurance to both commercial and individual clients through its subsidiary, Russell Insurance Group, Inc (RIG).
Receive News & Ratings for ACNB Co. Daily - Enter your email address below to receive a concise daily summary of the latest news and analysts' ratings for ACNB Co. and related companies with MarketBeat.com's FREE daily email newsletter.